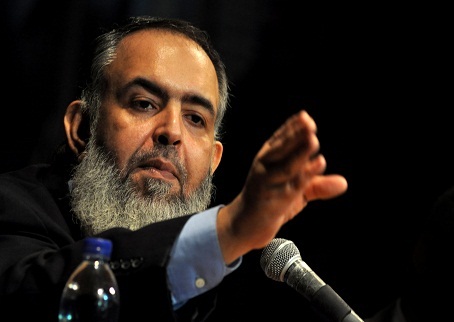 Ayman Elias, spokesman for disqualified Salafist presidential candidate Hazem Abu-Ismail, urged protesters outside Egypt's defence ministry in downtown Cairo on Sunday to disperse and return to the nearby Tahrir Square in order to stop violent clashes between protesters and unknown assailants.
Elias went on to assert that Sunday's clashes had been "planned" in advance in order to derail this month's scheduled presidential elections and the planned transfer of power from Egypt's ruling military council to a civilian administration.
Elias also denied that Abu-Ismail supporters had called for the sit-in outside the defence ministry, noting that there were other pro-Abu-Ismail groups that had been holding their own sit-in protests in Tahrir Square.
On Friday night, a group of Abu-Ismail supporters reportedly converged on the ministry, where they held a sit-in to demand that the military council abrogate Article 28 of last year's constitutional declaration – which deals with presidential elections – and dismiss the Supreme Presidential Elections Commission.
After attacks on sit-in participants on Saturday and Sunday by unknown assailants, several political groups – including the April 6 Youth Movement – joined the protesters to express their solidarity.
Abu-Ismail was disqualified from Egypt's first post-Mubarak presidential poll last month after it was shown that his late mother had borne US citizenship in contravention of Egypt's presidential elections law. Abu-Ismail supporters rejected the decision, which they saw as a conspiracy against the popular Salafist preacher.
For the last three weeks, Abu-Ismail's supporters have held rallies and protests – along with a sit-in in Tahrir Square – to express solidarity with the disqualified candidate.