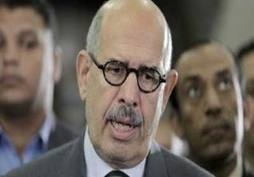 Dr. Mohamed el-Baradie, on his Twitter account said, the Supreme Council of Armed Forces (SCAF) and the government are incapable of providing security and are conniver in these attacks. He addressed them saying: you have failed. Go away, Egypt collapses thanks to you.
He added: the suppression of any peaceful demonstrations is a continuation of the former regime's practices. Will we see this time a trial for those involved in the violence?
It's to mention that Abbasya sit-in next to the headquarters of the Ministry of Defense made by the followers of Hazem Salah Abu Ismail to protest against the decision of the Supreme Administrative Court to exclude him from the presidential race because of the American nationality of his mother.