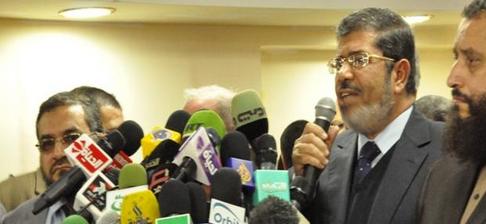 Many investors are waiting for the end of the presidential election to pump investments into Egypt worth LE200 billion, Muslim Brotherhood candidate for president Mohamed Morsy said Sunday.
"There have been official communications between the Freedom and Justice Party and 15 world firms to boost Egypt's economy and secure 2 million job opportunities," Morsy said during a campaign rally at Minya Sporting Club.
"Everybody in this country will abide by the rule of law and the constitution, including the president, state and military officials," Morsy told attendants. "We are seeking a constitution that ensures equality in rights and duties for all the people, and establishes good education and health systems, as well as free political activism."
Morsy said his platform, which has an Islamic background, sets the major goals of economic and human development as well as security stability.
He said his platform also eyes the revival of "brotherly" relations with Nile Basin countries to counter the decreasing Nile waters and to meet Egypt's need for cultivating millions of feddans in desert areas.
Morsy called on Egyptians to ensure elections take place safely to hand executive power over completely to the elected government.