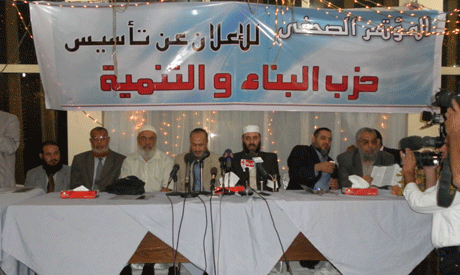 Al-Jamaa Al-Islamiya has announced its official endorsement of the moderate Islamist presidential candidate Abdel Moneim Abul-Fotouh on Monday, following a final vote count amongst the group's Shura council members.
In a statement issued by the Islamist group, whose political wing is the Building and Development Party, Abul-Fotouh won the majority vote at 63.34 percent from a total number of 273 votes. Abul-Fotouh defeated Mohamed Mursi, the Muslim Brotherhood's candidate, who gained 36.66 percent of the vote.
The group further announced that there have been ongoing efforts amongst the different Islamist groups and parties to agree on one candidate to support.
The party scheduled a meeting at the Building and Development Party headquarters on Wednesday to officially announce its endorsement of Abul-Fotouh - if an agreement is not reached amongst the Islamists over a consensus candidate.
Salafist Nour Party and Al-Wasat Party (The Centre Party) have already announced their official endorsement of Abul-Fotouh.