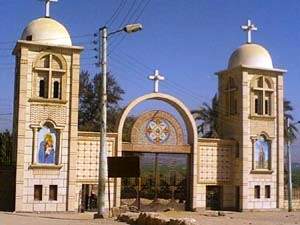 Father Wissa al-Shenoudy, deputy of St. Shenouda Archimandrite monastery in the Western Mountain in Sohag (The White Monastery) said that a number of thugs in cooperation with the Ministry of Antiquities inspectors, have seized a piece of land belonging to the ministry of Antiquities in the middle of the monastery's land, and no reaction was taken by Antiquities Police or the Ministry of Monuments.
The deputy told Copts United that a group of thugs who seized the land has came three days ago to the farm of the monastery and took off trees and stole the power cables of the farm. They fired bullets at the monastery to intimidate the workers.
He added that they were arrested before and were released on condition that they won't do it again. But now they are coming back with their guns and we don't know what to do if the police leave the place.