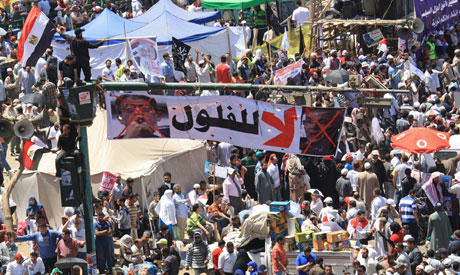 Egypt's Supreme Constitutional Court (SCC) rejected on Saturday the military council request to determine the constitutionality of the drafted Disenfranchisement Law before proposed legislation becomes law.
The Supreme Council of the Armed Forces (SCAF) had referred the proposed Disenfranchisement Law to the SCC on Thursday.
The draft legislation, which was approved last week by the People's Assembly, stipulates that those who were part of Hosni Mubarak's government during the five years prior to 11 February 2011 would not be eligible to enter the presidential race or hold public office for ten years.
The SCC said it has no legal jurisdiction over draft legislations that have not yet been approved by the SCAF. It added that the Disenfranchisement Law must be enacted first before it could issue any rulings on constitutionality.
According to the constitutional declaration that was issued by the SCAF in March 2011, the ruling military council must ratify any laws proposed by the Parliament before they go into effect.
If the SCAF ratifies the draft legislation, the presidential contender Ahmed Shafiq, Mubarak's last prime minister, would be not be permitted to run for the highest office in the presidential elections set for May.
Former Judge Mahmoud El-Khodeiry, the head of the legislative committee in the People's Assembly, described the SCC's decision as "a slap on the government's face." He added that the SCAF has no other option but to sign the law immediately.
Major General Sami Anan, the deputy head of the SCAF, is expected to hold an urgent meeting with a group of law experts on Saturday evening to discuss the SCC ruling as well as issues related to the formation of the constituent assembly to draft a new constitution for Egypt.