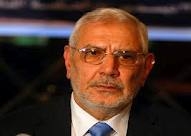 A Youtube video was spread over the internet for the presidential candidate, Abdul Monem Abul Fotoh in which he accepts and acknowledges the Israeli state. He also asked the Arab governors to show respect to the peace treaty between Egypt and Israel even if they don't like it.
He added, of course I support the Israeli state and I wish they reach a permanent agreement between them to stop violence. He advised the Palestinians to acknowledge Israel and Israel to acknowledge the Palestinian state.
It's worth mentioning that Abul Fotoh has recently denied this video pretending it is a fake one.