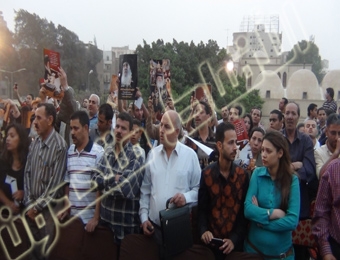 Maspero Youth Union held on Tuesday a memorial service in the fortieth day of the departure of His Holiness Pope Shenouda III in St. Mark Cathedral, Abbasya.
The ceremony was attended by Abba Pachomious, the acting Pope and Abba Moussa, the general bishop of youth, as well as many other politicians and public figures.
Abba Pachomious said: "I'm so happy to witness this ceremony which means you are loyal to Pope Shenouda whose blessings and teachings you have enjoyed since you were born"
He added, "I first met with Pope Shenouda in 1949. Since then I loved him as a father, guide, friend, shepherd, and many other great things. I'm happy to see your loyalty for him. We should imitate him in his great characteristics, and most of all to live in Christ. However his body is not here, he has not left us", said he.