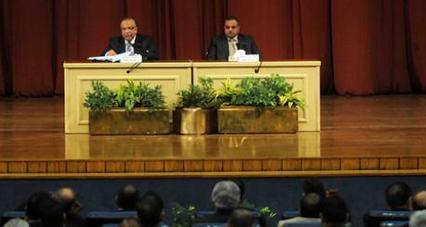 Hatem Bagato, head commissioner of the Supreme Constitutional Court, has told Al-Masry Al-Youm that the Commissioners Department in the court hasn't yet finished its report about the constitutionality of the voting system that elected the current Parliament.
Last February, an administrative court ruled that the voting system during the elections, which gave Islamists about two thirds of both houses of Parliament, is unconstitutional.
The parliamentary vote, hailed as Egypt's freest elections in six decades, was held under a complex system in which a third of seats were allocated to individuals (who could be members of political parties) and two thirds to lists designed by political parties.
Judge Magdy al-Agaty of the High Administrative Court said in his February ruling that the system that apportioned seats among individuals and political parties violated the constitution.
He referred parts of the election law to the Supreme Constitutional Court for a final judgment.
Bagato, who is also a member of the Presidential Elections Commission, said, "We cannot yet say the last legislative elections were invalid."
After the commissioners deliver their opinion on whether the law is constitutional or not, the court will hear the whole case. If ruled unconstitutional, the Islamist-dominated Parliament will be dissolved and Egypt should conduct new elections.
In the 1980s, the court ruled twice that allocating seats for political parties and denying individuals the right to run for them is unconstitutional since it violates the individuals' right to equal opportunity.