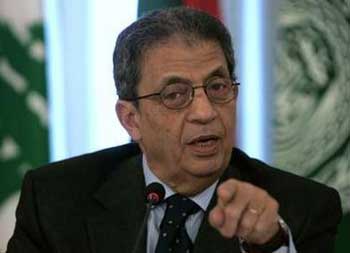 Amr Moussa, a likely candidate for the presidency said that the Muslim Brotherhood (MB) are doing their best to acquire all the authorities of the country, arguing they have the majority of seats in the parliament.
Moussa added that he is not worried as Khairat al-Shater was nominated for the presidency, however this will force the Islamists to rearrange their cards.
Egypt is facing a great crisis which it never encountered since Mohammed Ali. Egypt is passing through a crossroads; it is a matter of "to be or not to be". Thus, Egypt needs a good politician who is open-minded. Al-Shater is a business man and I'm a politician, he is an Islamist and I'm patriot, Moussa said.
About a deal between the Military Council and MB to share power, Moussa said that if such deal exists, this means that Egypt has never changed after the revolution.
Moussa concluded his interview in New Egypt program, hosted by Moataz al-Demerdash, aired on Al-Hayat satellite channel saying that it's significant to chose a suitable president for the current situation and the significant moment; a president who belongs to Egypt rather than any other trend.