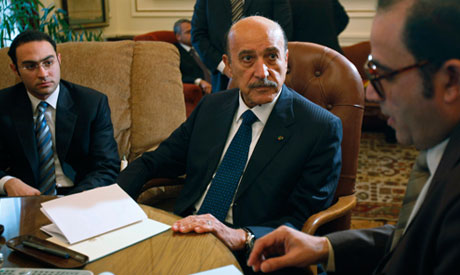 New reports spread on Monday morning that former vice president Omar Suleiman was going to submit his presidential candidacy later on the same day after weeks of rumours and unconfirmed news that he will join the presidential race.
Samuel El-Ashy , the head of the Revolutionary Front to support Omar Suleiman for presidency denied the news saying that the former Lt. General will not announce his candidacy today. "We are still gathering recommendations" El-Ashy told Ahram Online, referring to the 30,000 recommendation forms necessary before a presidential bid can be filed. "We have not finished gathering them yet," El-Ashy added.
In order to be nominated, candidates must secure the support of 30 elected MPs or the recommendations of eligible 30,000 voters from at least 15 Egyptian governorates or a nomination from a party with in the parliament.
The Omar Suleiman support campaigns have already claimed in the past three weeks that they managed to gather thousands of recommendations. There are now several Facebook pages supporting the presidential bid.
For weeks news reports speculated that the former chief of General Intelligence for 16 years was going to announce his presidency, but this was denied several times in a way that did not put the rumours fully to rest.
Just hours after former political advisor to Mubarak said on Al-Nahar TV last Saturday that Soliman would not run for the presidency, there were news reports that Soliman had acquired headquarters in Dokki, Giza.
According to some political observers Suleiman was among the rivals of Gamal Mubarak son of Hosni Mubarak who was being groomed for the presidency before the outbreak of revolution.