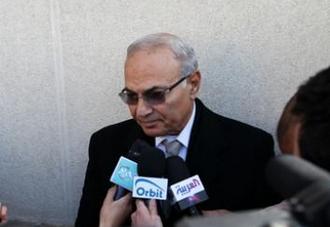 Presidential hopeful Ahmed Shafiq said Monday his decision to run for presidency is final and that discussions in the media over his withdrawal are completely untrue.
"I made my decision to run for president," Shafiq said in a statement. "I'm confident in my ability to lead Egypt during this hard time and transfer it to an advanced society. In case I win, I pledge that my term will exemplify wise rule, and I pledge that I will be the president who listens to the people."
Shafiq, a former air force commander and aviation minister, was the last prime minister picked by the former President Hosni Mubarak before he was booted from office.
Seen as an ally to the ousted president, commentators say that Shafiq is not a front-runner in the heated presidential race. The field of candidates recently widened when the Muslim Brotherhood, Egypt's strongest political force, announced the candidacy of former Deputy Supreme Guide Khairat al-Shater.
Shafiq is already up against stiff competitors such as Amr Moussa, a former foreign minister who served under Mubarak, and Islamist candidates such as Abdel Moneim Abouel Fotouh and conservative preacher Hazem Salah Abu Ismail.
Shafiq said he decided to run for president after serious consideration and consultation. He said he remains totally convinced that he is capable of achieving the demands of the 25 January revolution.
Shafiq also said that his moral code does not allow him to withdraw from the presidential bid, under any circumstances. He said he has always been a person to finish something he started.
"My confidence about winning is high," he said. "It's supported by my popularity and the 50-year-long history, during which I achieved accomplishments in all government sectors," he added.
Shafiq said that he will be in the race until the end and he will continue to solicit votes from all Egyptians, whatever the circumstances and no matter who the contenders are.