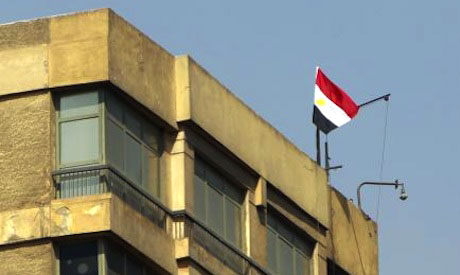 Two Israeli C130 military transport planes arrived in Cairo on Wednesday afternoon to ship the contents of Israel's Cairo embassy back to Israel. Each plane has carried one 20-foot-long container.
Two trucks arrived at Cairo International Airport early Wednesday morning carrying furniture and other materials from the embassy in preparation for the flight to Tel Aviv, according to a source at Cairo International Airport.
Israeli embassy officials did not provide an explanation for the move.
"This doesn't mean that Egypt-Israel relations have been severed," Tarek Fahmi, an Egyptian expert on Israel affairs, told Ahram Online.
Some observers believe the move is meant to pre-empt possible violence against the embassy in the coming period.
"As the Egyptian street becomes tense with upcoming presidential elections and the pressures of parliament, Israel fears an attack on its embassy," Said Okasha, editor-in-chief of "Israeli Selections," published by the Cairo-based Al-Ahram Centre for Political and Strategic Studies, told Ahram Online.
In September of last year, Egyptian protesters attacked the Israeli embassy, located in a residential building in central Cairo, prompting the abrupt evacuation of all embassy staff. Since then, Israeli embassy officials have continued to work in Cairo from locations in Maadi, New Cairo and near the Cairo International Airport.
Wednesday's move comes ten days after a fresh exchange of ambassadors between Cairo and Tel Aviv, with Atef Salem being appointed Egypt's ambassador to Israel and Yaacov Amitai being appointed Israel's ambassador to Egypt.
Egypt's parliamentary committee for Arab affairs this week requested the expulsion of the Israeli ambassador from the country and the recall of Egypt's ambassador in Tel Aviv to protest Israel's repeated bombing of the Gaza Strip last week in which at least 25 Palestinians were killed.
According to unconfirmed reports, however, Egypt's foreign affairs ministry rejected the committee's request.
It is believed that the two Israeli transport planes will return to Tel Aviv once loading procedures are completed.