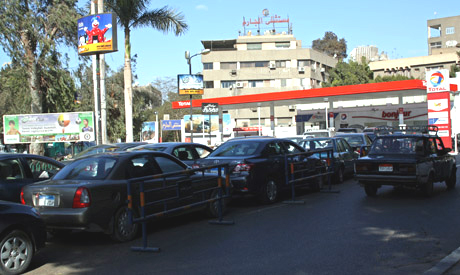 Egypt is facing a fuel crisis for the second time in 2012 as petrol supplies dry up and long queues of automobiles snake from the country's petrol stations causing traffic problems in surrounding streets.
All types of petrol – 80, 90, 92 and the more expensive 95 – are reportedly in short supply. Some petrol stations have resorted to setting a 20-litre limit on all fuel purchases.
The first signs of the current crisis were 10 days ago, prompting Egypt's Minister of Oil Abdallah Ghorab to address parliament on Tuesday.
Speaking in front of Egypt's newly-elected politicians, Ghorab denied there was a problem at the source, saying current shortages were being caused by distributors.
Ghorab said the government pumps about 36,000 tonnes of diesel and 9,000 tonnes of petrol 80 per day -- enough to meet demand.
"The ministry has got $150 million to inject more quantities of fuel in the market," he added.
In response, Egypt's speaker of parliament, Saad El-Katatni, claimed the fuel crisis was "artificial" and hence unacceptable.
On Wednesday, Egypt's Minister of Planning and International Co-operation, Fayza Abul Naga, told a press conference that state security had thwarted the smuggling of around 2 million tonnes of diesel on the black market.
"There is no governmental intention to raise fuels' prices," Abul Naga said, according to Ahram's Arabic-language portal.
Egypt's annual petrol production stood at 54 million tonnes in 2011, while annual consumption nationwide reached 53 million tonnes for the same period, state data shows.
A litre of Octane 80 is currently priced at LE0.9 ($0.15). Octane 90 sells for LE1.75 ($0.29), Octane 92 for LE1.85 ($0.3) and the highest quality, Octane 95, for LE2.75 ($0.45).