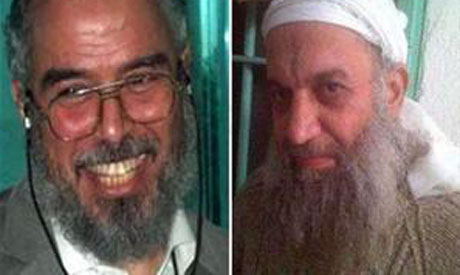 A military court on Monday acquitted two men involved in a 14 year old court case on terrorism charges. Key figures of the Al-Jamaa Al-Islamiya Islamist movement were being tried for planning terrorist acts and belonging to a banned group.
Two of the most important members are Mohamed El-Zawahiri, the brother of Al-Qaeda's Ayman El-Zawahiri, and Mohamed El-Islambolli, whose brother Khalid killed Egypt's former president, Anwar Sadat.
El-Zawahiri remained in jail after being arrested by Egypt's now defunct Central Security Services in 1998. He initially faced a death penalty in the famous case dubbed "Returnees from Albania," in 1991. However, he was released following the January 25 Revolution.
El-Islambolli recently returned from his 20-year exile, having spent time in Afghanistan, Turkey, Iran, and Dubai.
He returned to Egypt after former president Hosni Mubarak was overthrown in February 2011, and was imprisoned on 28 August.
After submitting an appeal to the court, he was released in early March for medical reasons.
The case goes back to 1998 when a total of 107 suspects from the Islamic Jihad movement were indicted on terrorism charges, some of whom were tried in absentia.
The group carried out a series of violent attacks in the early 1990s in an attempt to bring down the Egyptian government and replace it with a government based on Islamic law.