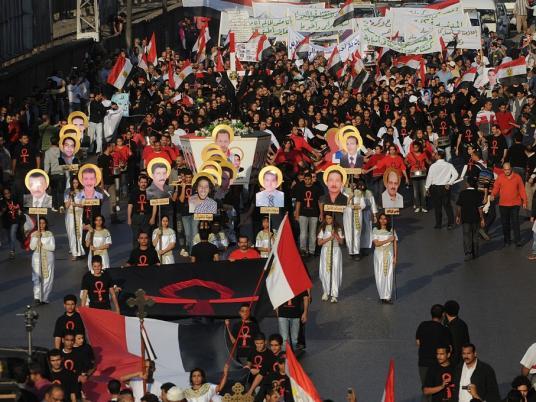 A military court has adjourned the case of protester deaths during a mostly Coptic march in October to 13 March, MENA reported on Sunday.
The court said that it needs to hear the testimonies of more witnesses.
Three soldiers are charged with killing protesters: Mahmoud Abdel Hameed Suliman, 21, Karam Hamed Mohamed, 21, and Mahmoud Gamal Taha, 22.
They all belong to the military police.
On October, Copts staged a protest in the Maspero area against the demolition of a church in Edfu, Aswan. The military responded with deadly force. Twenty-seven protesters, mostly Copts, and a soldier, were killed. Army officials denied responsibility for the deaths.
On 9 February, 28 suspects were placed on travel ban lists pending investigation into the events, including two priests and a Coptic lawyer who were accused of incitement and involvement in the Maspero events.
The court on Sunday heard the testimonies of a number of witnesses and watched videos of the massacre.
The incident caused an outcry in the Coptic community, as many activists said that the Supreme Council of the Armed Forces has been "lenient" in investigating numerous attacks on Copts since it assumed power.