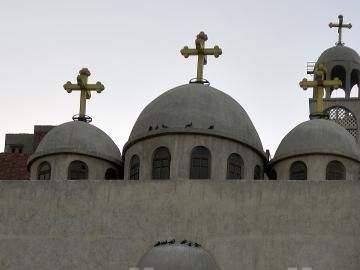 While Christian churches in Egypt endorsed an Anglican initiative to meet with Muslim Brotherhood leaders Tuesday, various Coptic groups continued to reject dialogue with the Islamist organization.
Brotherhood leader Mohamed Badie and his deputy Rashad al-Bayoumy, along with other group officials, received a high-level delegation Tuesday, including 17 members led by head of the Anglican Communion Safwat al-Bayaady and Anglican Church Undersecretary Andre Zaky, to discuss citizenship issues and religious freedoms.
The Coptic Orthodox and Catholic churches welcomed the Anglican Church's initiative. Rafiq Greish, a spokesman for the Catholic Church, said the Church had opened channels of dialogue with the Brotherhood for many years, and a source from the Orthodox Church said it was in constant communication with the group.
However, Sherif Doss, head of the Coptic General Authority, said his group rejects dialogue with the Brotherhood because it is a religious organization and that if Copts want to open communication with the group "they must be represented by the Church." He said the authority would welcome dialogue with the Brotherhood's political arm, the Freedom and Justice Party, and would even be willing to form an electoral alliance with it, as it is a political party.
Hany Ramses, a member of the Maspero Youth Union's executive office, demanded transparency from the Brotherhood over issues of citizenship, acceptance of minorities and the representation of Copts in the constituent assembly, which will be tasked with writing the new constitution. Ramses said if the group clears up these questions, Copts could begin "discussions over dialogue with the Brotherhood or anyone else."
The Brotherhood has "contradicting stances" and its leaders made "disturbing statements concerning citizenship and minority rights," he said.
With its coalition, the Brotherhood controls a plurality in the newly elected Parliament, which is responsible for appointing the constituent assembly.
Haitham Kameel, a leading figure in the Copts Unrestricted group, agreed with Ramses, saying that the Brotherhood "practices the same policy as the defunct National Democratic Party of excluding Copts from political life, and dialogue with us is nothing more than improving their image."
Medhat Kelada, the chairman of the European Coptic Organizations for Human Rights, said he rejects dialogue with the Brotherhood because they are similar to the NDP in "taking over chairmanship of 80 percent of parliamentary committees, and their quest to control the constituent assembly."
"The Muslim Brotherhood and its party's actions are exclusionary," said Kelada. "The People's Assembly is unconstitutional and was marred by many violations during the electoral process."