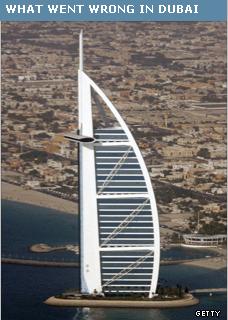 US shares have fallen on worries about Dubai's debt problems, with the Dow Jones ending down 154 points, or 1.5%, at 10,309.92, in a shorter trading day.
It was the first chance for markets in the US to react to news that state-owned Dubai World had asked for more time to repay its debts.
US markets were closed for a holiday on Thursday when other world markets suffered steep losses.
However, the main European markets recovered from earlier falls.
The main share indexes in the UK, France and Germany had all fallen by more than 3% on Thursday. But after falling further in early trade on Friday, the UK's FTSE 100 closed up 1%, and both Germany's Dax index and France's Cac 40 ended more than 1% higher.
Earlier in Asia, Japan's Nikkei index had closed down 3.2% and the Hong Kong Hang Seng ended 4.8% lower.
UK Prime Minister Gordon Brown described the fall in the markets as a "setback" but said it was "not on the scale of previous problems".
"The world financial system is stronger now and able to deal with the problems that arise," he told reporters on his way to a Commonwealth leaders summit.
Holiday hiatus
Dubai World is the centrepiece of the Gulf state's economy.
Sources close to the company have suggested that various refinancing options have been on the table for at least a month, although details have not been revealed until now.
A six-month suspension on interest payments is believed to be the most likely option.
David Buik, senior partner at BGC Partners, said: "You can't just say to the world: 'I don't want to pay my debts'. There is no income coming in from any of these properties. I think this is shocking PR."
The news shook markets that are recovering from the collapse of the US housing market and contagion that threatened to rupture the global financial system last year.
It was the timing of the announcement as much as the lack of clear information that heightened nerves. The first news emerged late on Wednesday, as the Muslim world was preparing for its Eid celebrations.
It also coincided with the closedown of the world's most important share market, with US markets winding down for Thursday's Thanksgiving holiday.
Uncertainty of the scale of banks' exposure to Dubai hit banking shares at first. However, bank shares recovered strongly throughout Friday morning.
Threat to confidence
The biggest underlying fear is that Dubai's problems could reignite the international financial turmoil of the credit crisis.
Chris Skinner, chairman of the Financial Services Club, said: "We're very heavily interlinked. Dubai is the key financial centre in the Middle East."
Any knock to economic confidence could lower global demand for a whole range of commodities, including oil.
Oil prices dropped sharply. US crude fell about 5% to $73.64 a barrel and London Brent Crude was down $1.56 to $75.31.
Dubai, which has less oil money than many of its neighbours, became a trading and tourism hub with global ambitions.
Dubai World, the conglomerate that led the emirate's expansion, had $59bn (£36bn) of liabilities as of August, a large proportion of Dubai's total debt of $80bn. Its subsidiary Nakheel was the builder of the landmark palm tree-shaped island developments off Dubai.