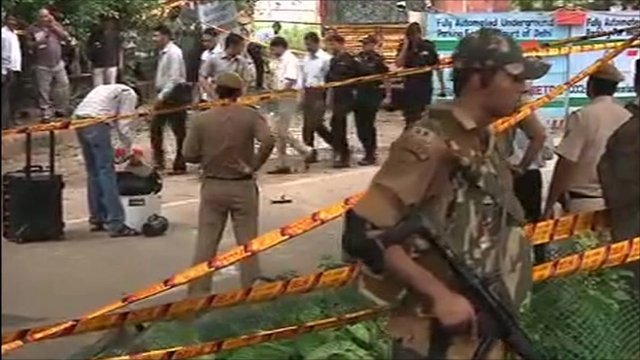 A bomb outside the Indian High Court in the capital Delhi has killed nine people and injured 47, Home Minister P Chidambaram has said.
Speaking in parliament, he said the government condemned "this terrorist act". He said Delhi was a "target of terrorist groups".
Police said the bomb was apparently placed in a case outside the main gates leading to the reception at the court.
The area was busy with lawyers and witnesses waiting for day passes.
Police have now placed Delhi and the financial capital Mumbai on a state of high alert.
In June, a bomb exploded in a car outside the same Delhi court complex. There were no casualties on that occasion.
Crowded area
The latest explosion occurred around 10:17 local time (04:47 GMT).
It was caused by "at least a medium-intensity bomb", home ministry official UK Bansal said.
"It appears that the bomb was in a suitcase because we have the remains of that suitcase," the senior civil servant in the home ministry, RK Singh, told the CNN-IBN news channel.
Intelligence agencies shared information with Delhi police in July about the latest threats, Mr Chidambaram told parliament.
"At this stage it is not possible to identify the group that caused the bomb blast today," he said.
News channels showed ambulances taking away a number of people who appeared to be severely injured.
Eyewitness Chanakya Dwivedi told the BBC the blast took place just before the first security checkpoint.
"As I was just about to enter the Chief Justice's court, I heard a huge bang that shook the building and gave the effect of a earthquake," he said.
"After 20 seconds' commotion, I saw huge smoke on the front gate.... It was a bomb blast with blood all around and lot of people crying."
He went on: "About 15 to 20 minutes later, all the lawyers were asked to stay in the complex, and after that, the lawyers were asked to evacuate the building.
"The emergency services reacted in quick time, but still I guess the damage was already done till then."
In July, 26 people died in three explosions in the country's financial capital, Mumbai.
Mumbai is now on a state of high alert, the police control room has told the BBC.
The BBC's Sanjoy Majumder, in Delhi, says the area was crowded with lawyers and witnesses because Wednesday is the day when most public-interest litigation is heard at the high court.
Forensic experts are now collecting debris to analyse but there has been no word from police on who they suspect might be behind the attack, our correspondent adds.