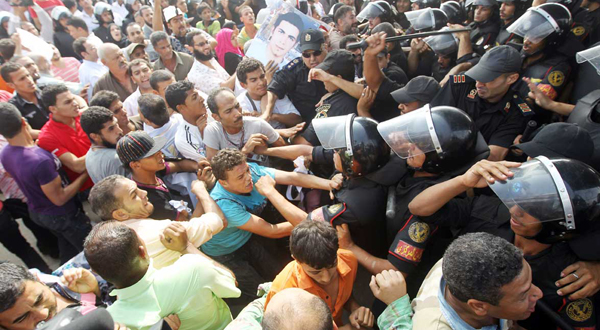 CAIRO: A police official testifying at the trial of ousted president Hosni Mubarak said he heard over wireless networks "unilateral" orders to deploy firearms to protect the Ministry of Interior headquarters on Jan. 28.
Witnesses for the prosecution appeared before the court for the first time in the third session of the trial of ousted president Hosni Mubarak.
Mubarak was wheeled in on a stretcher and appeared behind the iron-mesh dock at the Police Academy.
Criminal case 1227 brought together Mubarak his two sons Alaa and Gamal, former interior minister Habib El-Adly and six of his aides.
Tension erupted several times between the families of the martyrs and lawyers representing them and Mubarak supporters inside the court.
The hearing was disrupted several times as increasingly frustrated presiding judge Ahmed Refaat lost his temper at hecklers.
The session opened with the regular calling of names of defendants.
When asked by the judge, Mubarak's lawyer Farid El-Deeb confirmed that he received the documents he had requested from the ambulance authority in the previous session.
El-Deeb made a new request from the court asking it to authorize the release of documents from the South Sinai governorate detailing the ownership of plots of land exceeding 10,000 square km in Sharm El-Sheikh between 1988 and 2010 which were not given to Hussein Salem.
He requested details of the size of the land and the purpose of its usage.
This request is related to charges that Mubarak had helped his crony Salem profiteer through the illegal direct allocation of prime real estate in return for villas in Sharm El-Sheikh.
Other lawyers for the defense requested the meeting minutes of a Jan. 22 Cabinet meeting allegedly held to set the strategy for confronting the planned Jan. 25 protest.
One volunteer for the defense attending on behalf of Mubarak, lawyer Salwa El-Sobey, told Daily News Egypt that Mubarak did not give orders to kill protesters and that "almost 300 witnesses will be summoned in his defense."
She claimed that there are documents proving that all firearms had been returned to police headquarters before Jan. 28 and that no orders were given for the police to retreat.
The judge summoned four witnesses: General Hussein Said as well as police officials Emad Badry, Bassem Hassan and Mahmoud Galal Abdel Hamid.
Said, who is the former head of a wireless communication unit of the central security agency, was asked to appear on the witness stand while three others were sent to an isolated area so as not to hear the first witness' testimonies.
Judge Refaat questioned Said about the events that took place between Jan. 25 and Feb. 11. The police general said that he was assigned for duty on Jan. 25 by defendant deputy interior minister Ahmed Ramzy who headed the central security agency at the time.
Said described that at midnight on Jan. 25 there was increased wireless communication which he followed on his walkie-talkie and in which Ramzy ordered officials posted in Tahrir Square to use tear gas, water cannons and metal pellets to disperse protesters in an operation which lasted between two to three hours.
Asked whether he was aware of orders to disperse protesters using firearms and live ammunition, Said said that on Jan. 25 only tear gas and water cannons were used, and that no orders were given on Jan. 26.
He added that on Jan. 27 he was invited to attend a high level meeting including Ramzy and the head of sectors in the central district.
He said that he attended 15 minutes of that meeting in which they discussed problems with the communication network they faced on Jan. 25 and that Ramzy ordered the procurement and distribution of 200 wireless devices.
Said explained that when events escalated on Jan. 28 after Friday prayers, more wireless communication he followed indicated that the number of protesters was increasing and that Ramzy's main instruction was to prevent protesters from reaching Tahrir Square. He instructed to deal with protesters according to "what they deemed appropriate."
He repeatedly said that the standard procedure did not involve the use of firearms.
However, at around 4 pm on Jan. 28, Said participated in a conversation between higher level minister's aides where they expressed fears that protesters were about to attack the interior ministry.
Said said that he heard Ismail Al-Shaer, former director of the Cairo Security Directorate and one of the defendants in this case, request Central Security Forces (CSF) reinforcement to protect prisons, police stations and the interior ministry, to which Ramzy made a unilateral decision to deploy firearms only to the interior ministry because he had no other forces at his disposal.
Said said that weapons were delivered in ambulances because at that point many of the CSF trucks had been burnt down and police cars were targeted by protesters. He confirmed that the weapons were delivered but that he was not personally aware through wireless communication of whether or not they were used. He insisted that Ramzy did not refer to a higher authority before deploying the live ammunition.
He added that he later learnt through conversation with other officers that live rounds were used.
Amir Salem, lawyer representing civil rights complainants, rejected the fact that Said's testimony didn't mention the existence of a closed circuit wireless communications network that is only accessible to former interior minister El-Adly and his closest aide and through which he may very well have given the order to shoot protesters.
One of Ramzy's legal representatives, Mahmoud Said, however said that the testimony does not incriminate his client.
"According to Article 102 of the police law, the use and deployment of firearms to protect public buildings is legal," he told DNE.
"The law gives the police the right to use live ammunition in specific cases such as to prevent attacks on prison, and the escape of prisoners, and to protect public buildings," he said.
Commenting on the procedures, human rights lawyer Ahmed Seif El-Islam told DNE that he was impressed with the performance of the judge and the witness. "Everything the witness said corresponds with the prosecution's investigations," he told DNE.
At time of press, civil rights lawyers were still questioning the first witness and the other three witnesses had not yet been summoned for questioning before the court.
On the outside
Outside the court, demonstrators scuffled with police with several injuries reported as a result of repeated rock throwing.
Hundreds of victims' families and protesters pushed and shoved in an attempt to break through the main gates and enter the court building. Black-clad anti-riot police swung batons and briefly clashed with the protesters, who hurled stones at the security forces.
TV footage also showed metal barricades being thrown, while hundreds of anti-riot police chased young men in the streets.
Mubarak supporters held up posters of him, chanting: "He gave us 30 years of protection, Mubarak hold your head up high."
Judge Refaat has banned live television coverage of the trial after the first two sessions.
Mubarak is the first Arab leader to stand trial in person since popular uprisings swept the Middle East this year.
Attorneys have filed motions to summon more than 1,000 witnesses in the trial, including Hussein Tantawi, head of the ruling military council.
Ten Kuwaiti lawyers said they were joining the defense team for Mubarak on Monday. Al Jazeera television said that they had not been allowed into the court when the trial began.
Some of the lawyers said they were making a gesture of gratitude to Mubarak for his support for a US-led coalition that expelled Iraqi forces from Kuwait in 1991