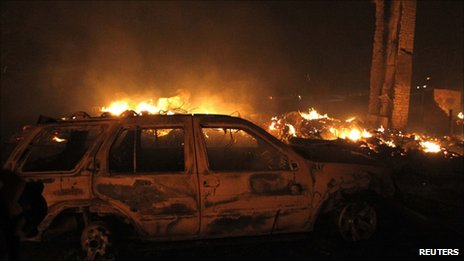 Dozens of wildfires raging in rain-starved Texas are now known to have engulfed more than 1,000 homes, say state officials.
The biggest of the blazes - 16 miles (26km) wide - in rural Bastrop County remained completely uncontained early on Tuesday.
Firefighters hope calmer winds will help them control the fires, which have prompted mass evacuations.
Powerful gusts from Tropical Storm Lee have been fanning the flames.
Texas has been suffering its worst drought since the 1950s.
Schools closed
Speaking at a news conference on Tuesday, Texas Governor Rick Perry said more than 100,000 acres (40,470 ha) had been scorched by at least 57 wildfires in Texas over the past week.
More than 1,000 homes had been burned over the past week, added Texas emergency management chief Nim Kidd.
On Monday, officials said about 500 homes had been destroyed.
The National Weather Service said that winds had dropped early on Tuesday to 5mph - compared with 30mph a day earlier - and were expected to remain calm for the rest of the day.
Texas Forest Service spokeswoman Victoria Koenig said the forecast was encouraging for firefighters who have found it almost impossible to contain the wind-whipped flames.
About 5,000 people have been forced to leave their homes because of the Bastrop fire and hundreds have taken refuge in emergency shelters.
Gina Thurman, an evacuee at a Catholic Church that is being used as a shelter around Bastrop, choked back tears as she told the Associated Press: "Waiting is the most frustrating thing.
"You're sitting there and you don't know anything but your house is probably burning."
Nearly 600 of the destroyed homes are in Bastrop, said the Texas Forest Service.
Schools were closed on Tuesday in that county because of the fire.
'Surreal'
On Monday, Gov Perry cut short presidential campaigning to return to the state, saying the next 48-72 hours would be crucial in the battle against the conflagration.
The Republican White House hopeful said seeing the fire from the air had been a "surreal" experience.
"I've seen a number of big fires in my life," he said. "This is as mean looking as I've ever seen, particularly because it was so close to the city."
The Bastrop fire was about 30 miles south-east of Austin and moving away from the state capital.
A blaze in east Texas killed a 20-year-old woman and her baby daughter on Sunday before it was extinguished.
Since December, 3.5m acres in Texas have been claimed by wildfires, Gov Perry said, an area about the size of the state of Connecticut.