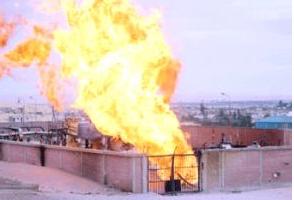 CAIRO – A reliable source in Jordan's Ministry of Energy and Mineral Resources (EMR) announced on Sunday that Egyptian will soon resume exporting gas to Jordan, as the two parties have reached an agreement about a revised price, the official Middle East News Agency reports.
The source told Jordan newspaper Ad-Dustour on Sunday that the new agreement will be ready this week, allowing Egypt to resume pumping gas to the Hashemite Kingdom.
EMR Minister Khaled Toqan said in statements before Eid el-Fitr that Egypt and Jordan would sign a new agreement for the resumption of pumping the gas, adding that Jordan would pay a higher price.
Under a previous deal, Amman received natural gas at less than half of the market price.
Supplies of Egyptian natural gas to the Kingdom have been disrupted several times this year, due to the Arab Gas Pipeline, which provides Egyptian gas to Jordan and Israel, being blown up five times.
The unreliability of Egyptian gas has forced the Jordanian authorities to look for alternative energy sources, including liquefied gas.
Plans are in place to construct an offshore terminal for liquefied gas at the Port of Aqaba by 2013.
Cairo has come under increasing popular pressure since the January 25 uprising to end gas exports to Jordan and Israel and prioritise the resource for domestic use.
The Hashemite Kingdom, which currently buys 97 per cent of its energy needs, used to import about 240 million cubic feet of Egyptian gas a day, or 80 per cent of its electricity requirements.