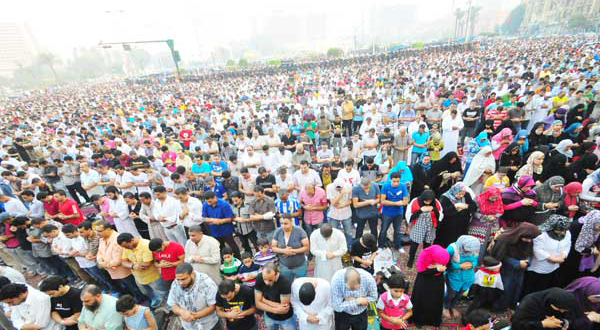 CAIRO: Thousands of Egyptians prayed in celebration of Eid Al-Fitr in Tahrir Square, the epicenter of the protest that toppled long-time president Hosni Mubarak in February.
Thousands gathered bearing Egyptian flags to celebrate the first Eid, which marks the end of the Muslim fasting month of Ramadan, since Mubarak was overthrown.
"The square is ours. The country is ours," one man chanted before settling into the prayer.
"Today is a joyous day without Mubarak. Everybody knows Egypt will not return to what it was before January 25," Sheikh Mazhar Shaheen, who became the symbolic preacher in Tahrir during the uprising, said in his sermon.
"The next president must learn the lesson from his predecessor because the Egyptian people will not accept injustice ever again," he said.
Eid sermons, attended by Mubarak and his government, were typically broadcast across television stations in the past.
But on Tuesday, state television offered images of not just the official gathering, attended by the now ruling generals, but of the people gathered in Tahrir Square.
Men, women, and children held on to flags, waving them as Shaheen prayed for protesters in Syria and Yemen, who are also fighting the rule of their long-time presidents.
Cheerful children picked up balloons and toys being distributed by youth groups and political parties, including the April 6 Youth Movement and the Al-Jamaa Al-Islamiya.
In an official gathering, Mohamed Hussein Tantawi, heading the interim military council now ruling Egypt, gathered with military commanders and cabinet officials in a prayer lead by Egypt's Mufti, the country's highest religious authority.
Online activists listed telephone numbers for more than 680 mothers, whose sons or daughters were killed during the uprising, calling on Egyptians to celebrate Eid with them and reassure them that the revolution will continue until its demands are met.
"When you spend your first day of Eid, do not forget the martyrs, who went out to the unknown and took bullets into their bare chests," the activists said.
"Do not forget our common dream that we have paid for deeply. Our demands are bread, freedom, dignity, and social justice. Our revolution continues," the group added.
Following the prayers, hundreds demonstrated at Tahrir Square, chanting against military trials of civilians and calling on security personnel to protect the eastern border and the Sinai peninsula instead of the Cairo square.
Demonstrators marched around the square, which was temporarily closed for traffic during the prayers, reminding others with the planned protest on Sept. 9