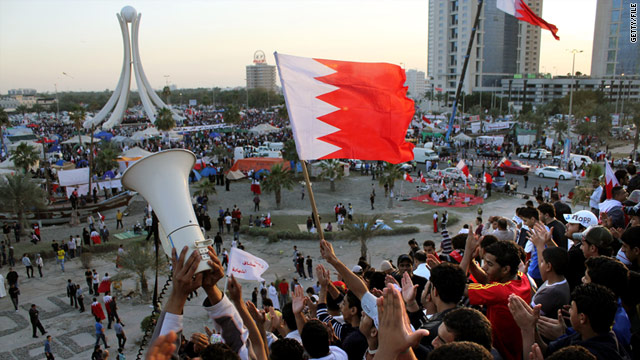 Sitra, Bahrain (CNN) -- Bahrain's interior ministry is offering a reward for information leading to the killer of a 14-year-old boy whose death has fueled protests, the state news agency reported Thursday.
Witnesses said Wednesday they saw Ali Jawad al-Sheikh collapse after riot police fired a tear-gas round at him and other protesters in Sitra, southwest of the capital Manama.
But the Interior Ministry said no clashes were taking place at the time the boy was injured, saying that the last reported incident of unrest in the area was around 1:15 a.m. Wednesday.
The ministry has put up a 10,000 Bahraini dinar ($26,400) reward for information leading to an arrest, BNA said.
A police chief earlier said the hospital officials who informed the police they had received his body did not give any details about the incident or where the body was found, BNA added.
Clashes between police and Shiite Muslims in Bahrain stretched into Thursday morning, fueled by anger over his death.
Bahraini pro-democracy activist Zainab Alkhawaja told CNN she was in Sitra, where thousands of people have gathered in the streets ahead of the boy's funeral.
The boy's relatives told her authorities had released his body and it was being washed -- in accordance with Muslim custom -- and would then be carried in procession to the graveyard for burial, she said.
There was a feeling of anger, she said, with people chanting slogans calling for the fall of the regime and its leader, King Hamad.
"People are more upset and angry than I've seen at funeral here before -- I think because he was so young," she said.
Bahraini officials said Thursday that blood tests on the body brought to Sitra health center did not show any sign of tear gas exposure, BNA reported.
Public prosecutors have begun examining the incident, according to a statement from Bahrain's Information Affairs Authority, and it would also fall under the authority of the Independent Commission of Inquiry set up by Bahrain's King Hamad in June to investigate reports of human rights abuses.
Clashes broke out on the first day of the Eid al-Fitr festival for many Shiites in Bahrain, one of several countries embroiled in anti-government protests across the Middle East and North Africa this year. By early Thursday, they had spread to most Shiite villages and parts of Manama.
Police responded heavily to street fights in three districts near the Pearl Roundabout, the epicenter of anti-government protests that began in February, witnesses said. Bahrain demolished the landmark Pearl Monument at the center of the plaza in March after it became a symbol of the demonstrations.
Protests have lingered for months despite a crackdown by Bahrain's Sunni monarchy, backed by troops from Saudi Arabia and the United Arab Emirates. More than 30 people have been killed the crackdown, in which activists say Bahraini security forces used live ammunition.
Opposition groups say more than 1,000 people -- mainly Shiites -- have been detained and more than 2,000 have lost their jobs for allegedly taking part in the protests.
Bahrain is a close ally of the United States and houses the headquarters of the U.S. Navy's 5th Fleet. Its rulers blame Shiite-ruled Iran for stirring up trouble among its Shiite majority, but opposition leaders and Iranian officials deny the allegation and many Western powers have dismissed it.
The boy's father, Jawad al-Sheikh, told CNN Wednesday that when he went to the morgue, his son was "hard to recognize because he was covered with blood." He appealed for human rights groups to take steps against Bahrain's leaders, saying, "I lost my child. ... He does not deserve this destiny."
Tuesday, Rupert Colville, a spokesman for the U.N. High Commissioner for Human Rights, said the situation in Bahrain remains "tense and unpredictable," with small protests still being repressed.
The United Nations has demanded that Bahrain release prisoners detained for exercising freedom of speech.