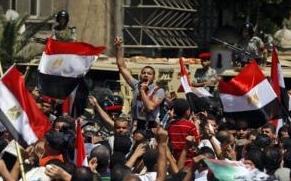 CAIRO - A Cairo court is due to start on September 11 a case in which a lawyer is asking the Egyptian Government to expel the Israeli envoy in Cairo over the killing of Egyptian policemen on the Egyptian-Israeli border, as a judicial authority plans to file a lawsuit requesting Israel pay $5 billion in compensation from the same incident.
"A lawsuit to force Prime Minister Essam Sharaf and Foreign Minister Mohamed Kamel Amr to expel the Israeli Ambassador is to be heard on September 11," said Noura el-Farra, an Egyptian lawyer who has filed the case with Egypt's administrative courts.
She added that the case depends on an initial report carried by local and international news agencies, which said that Egypt has decided to recall its Ambassador in Israel and expel the Israeli envoy.
Some judges with Egypt's State Cases Authority, meanwhile, have called for their chief, Judge Mohamed el-Sheikh, to file a compensation lawsuit against Israel for $5 billion.
"This is a move to protect the rights of the Egyptian martyrs, who were protecting our territories," said one judge.
Five Egyptian policemen were killed, apparently by Israeli fire, during the pursuit of assailants who killed eight Israelis near Eilat, sparking a diplomatic crisis between Egypt and Israel.
The judicial moves related to the killing of the five Egyptian policemen by Israeli fire came as dozens of activists protesting outside the Israeli Embassy in Giza decided to suspend their protest.
The April 6 Youth Movement, a group that co-organised the protest which reached its peak on Friday, said it suspended the protest after its message reached the 'Zionist enemy'.
"Egyptians wanted to prove that the public can impose their will on the rulers," said a statement from the group, which added that it is giving a chance to the ruling Supreme Council of the Armed Forces to restore the rights of Egyptian martyrs.
The group pinpointed five demands in its statement, as follows: an Israeli apology, a joint investigation into the incident, expelling the Israeli envoy, recalling the Egyptian envoy in Tel Aviv and amending the 1979 Camp David Accords with Israel.
Meanwhile, Speaker of Israel's Knesset Reuven Rivlin cautioned that any move to alter the peace agreement would have to be approved by the Knesset, commenting on an initial approval by the Israeli Cabinet to allow Egypt to deploy more troops in Sinai.
Israel has accepted the deployment of additional Egyptian military forces to boost security in the Sinai Peninsula, a senior Israeli official told AFP on Friday.
The official, on condition of anonymity, told Britain's Economist magazine that Defence Minister Ehud Barak said Israel has agreed to the increase.
The number of Egyptian forces in the Sinai are limited under the 1979 Israel-Egypt peace treaty. Egypt's military, which took power after Hosni Mubarak's overthrow in February, has said it will honour the treaty.