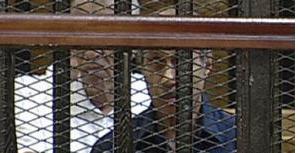 CAIRO (Updated) The trial of Egypt's former interior minister Habib el-Adli and six of his deputies on Sunday was adjourned to September 5, the official Middle East News Agency reported.
El-Adli is accused of being involved in giving orders to his officers to kill unarmed protesters during the 18-day revolution. According to official reports more than 8,00 were killed and about 6,000 injured in the violence against protesters during the revolt.
The trial was adjournment after a number of lawyers representing the defendants insisted on speaking without prior court permission.
The judge couldn't go on with the case in light of the disorderly manner and the resulting chaos in the courtroom.