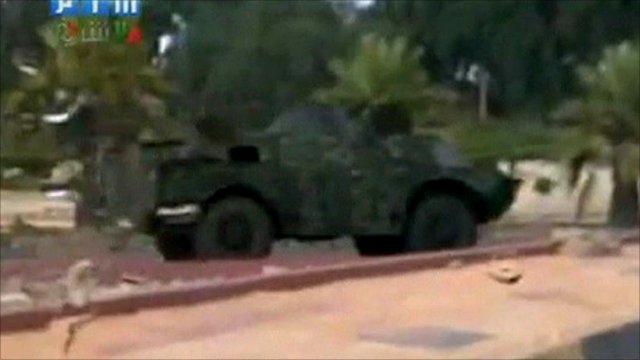 Syrian warships have joined a military assault targeting protesters in the northern port city of Latakia, activists say.
At least 19 people have been killed in the operation, the UK-based Syrian Observatory for Human Rights said.
The military attack began on Saturday, targeting the protesters' stronghold of Ramleh in the city, it said.
More than 1,700 people have reportedly died in the six-month uprising against the rule of President Bashar al-Assad.
'Residents flee'
Some 20 tanks and personnel carriers were also said to be taking part in the Latakia assault, with heavy gunfire reported in the Ramleh neighbourhood.
One witness told Reuters news agency by telephone: "I can see the silhouettes of two grey [naval] vessels. They are firing their guns and the impact is landing on al-Ramleh, al-Filistini and al-Shaab neighbourhoods."
A report on state television denied there had been any naval shelling.
Activists said at least two people were killed and 15 wounded in Saturday's attacks.
They said a large number of residents had fled the city and that telephones and internet connections had been cut off.
International journalists face severe restrictions in operating in Syria, and it is hard to verify reports.
Thousands of people were said to have come on to the streets of Latakia on Friday to demonstrate against the government.
Amateur video footage posted on the Internet also showed what appeared to be armoured personnel in the streets.
Latakia has seen many anti-government protests in the past six months.
Tens of thousands of people had come out on to the streets across the country again on Friday to protest.
The Syrian Observatory said that a large number of troops had also moved into the Saqba and Hamriya districts of the capital Damascus on Sunday, with gunfire heard in both suburbs.
Crackdown 'intensifying'
Syria has come under increased diplomatic pressure in the past week to stop its crackdown on dissent.
The US has imposed sanctions on Damascus and has said these could be increased, while calling on other countries to follow.
Saudi Arabia, Bahrain and Kuwait have all recalled their ambassadors, while Turkish Foreign Minister Ahmet Davutoglu has described the methods used by the Syrian security forces as "unacceptable".
However, it appears the crackdown has intensified, with troops storming several towns and cities.
Mr Assad has reiterated promises of political reform, while remaining adamant his government would continue to pursue the "terrorist groups" he has blamed for the unrest.
Protests have been targeted in Homs, Hama, Damascus, Deir al-Zour in the east and Aleppo and Idlib near Turkey's border.
A doctor in Hama told the BBC that medical services there had been severely affected by recent government attacks. He said two hospitals were closed and one had been stormed by troops, injuring many of the medical staff.