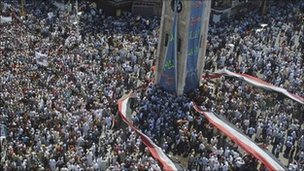 Syrian tanks have stormed the northern city of Hama, killing at least 45 civilians, a leading rights group says.
Hama has been in a state of revolt and virtually besieged for the past month.
Earlier, a doctor confirmed that 24 people had been killed and residents reported "intense gunfire" as Syrian forces moved in from several sides.
The army is signalling that it will not tolerate large-scale unrest ahead of the month of Ramadan, when protests are expected to grow, correspondents say.
Activists say more than 1,500 civilians and 350 security personnel have been killed across Syria since protests began in mid-March.
The protests show no sign of letting up despite a government crackdown that has brought international condemnation and sanctions.
Centre of protests
According to activists on the ground, troops and tanks began their multi-pronged assault at dawn, smashing through hundreds of barricades erected by locals to reach the centre of Hama.
"[Tanks] are firing their heavy machineguns randomly and overrunning makeshift road blocks," a doctor in Hama told Reuters by phone, with machinegun fire in the background.
He said the death toll was rising rapidly, adding that three of the city's hospitals had received 24 bodies - 19, three and two respectively.
Speaking in London, Rami Abdel Rahman of the Syrian Observatory for Human Rights said the latest toll, based on his contacts with Syrian doctors, was 45 dead and several more wounded.
Residents of northern Hama told Reuters that tank shells were falling at the rate of four a minute there. They also confirmed deaths in the area.
Electricity and water supplies had been cut, they said, in a tactic regularly used by the military when storming towns to crush protests.
Security forces snipers were reported to have taken up positions on high buildings, the BBC's Jim Muir reports from Beirut in neighbouring Lebanon.
One local activist said that five tanks had been abandoned by their crews in two parts of town, and that protesters had attacked and burnt down three police stations, our correspondent says.
One resident, who has been speaking to others around Hama, told the BBC World Service that the three main hospitals were overwhelmed with more than 200 wounded people.
"They are treating people in the halls of the hospitals. A lot of injured people [have been] taken to homes and doctors are treating them there," he told the World Today programme.
He said the protesters had done nothing to provoke the military action.
"For three months, Hama has had huge demonstrations. More than 250 people have been killed, and nothing, no shot has come out from Hama people. Just barricades and stones and wood, that's all," he said.
"It's just a 100% civilian uprising."
Hama was the scene of the suppression of an uprising against President Assad's father in 1982. The city has seen some of the biggest demonstrations of the recent unrest.
Mass arrests
Elsewhere on Sunday, three people were killed by security forces at Harak in the southern Deraa region, and six in the eastern city of Deir al-Zour and, rights campaigner Rami Abdel Rahman said.
On Saturday, troops shot dead three people who threw stones at a military convoy sent to quash the near-daily protests in Deir al-Zour, he said.
A total of 20 people were killed and 35 wounded on Friday as hundreds of thousands of protested in cities across Syria, rights groups said.
More than 500 people were arrested in a single operation in the Qadam neighbourhood of the capital Damascus, they added.
Since the start of the unrest, more than 12,600 have been arrested and 3,000 others are reported missing.
The government blames armed Islamist gangs for the unrest, but correspondents say the protests appear largely peaceful, with only isolated cases of residents arming themselves against the military assault.
Most foreign media is banned from the country, making it difficult to verify reports.