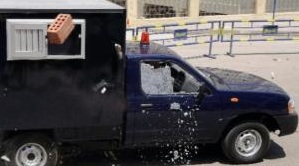 CAIRO - The trial of former interior minister Habib el-Adli and six of his former senior aides will be aired live on Egypt's State TV on Monday, as preparations are underway for the first court session of former president Hosni Mubarak, scheduled for August 3, to be broadcast.
"El-Adli's trial for ordering the killing of peaceful protesters will be aired live on Monday. This is the second time for trials of former officials to be broadcast," said Ibrahim el-Suyyad, head of the State TV's news sector.
He added that the trial of Mubarak will be aired live wherever it's held. "Egyptian TV is committed to transparency after the January 25 revolution," el-Suyyad stressed.