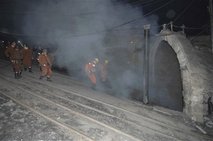 BEIJING – A gas explosion tore through a state-run coal mine in northern China on Saturday, killing 42 people and leaving 66 others trapped underground as rescuers worked hastily to save them.
China's mines are the world's deadliest, and the blast shows the difficulties the government faces in trying to boost safety in an industry where large state-owned coal mines are considered safer than smaller, private ones.
A total of 528 people were working in the Xinxing mine in Heilongjiang province at the time of the 2:30 a.m. explosion, the State Administration of Work Safety said in a statement. It said 389 escaped after the blast.
China Central Television reported that 42 were dead, 31 rescued and the others trapped about a third of a mile (500 meters) underground. The report said the explosion was caused by a gas buildup.
Television footage showed smoke billowing out of the mine, with a collapsed building nearby.
The report said power, ventilation and communication links in the mine were cut by the explosion, hampering rescue efforts.
A man answering the phone at the mine said an unknown number of people were injured. He did not want to give his name, as is common among Chinese officials.
The mine is located near the border with Russia, about 250 miles (400 kilometers) northeast of the provincial capital, Harbin.
It is run by one of China's top 520 state-owned enterprises, according to the Web site of its owner, the Hegang branch of the Heilongjiang Longmei Holding Mining Group. It says the Hegang branch has more than 88,000 employees.
China depends heavily on coal to generate about three-quarters of its electricity needs.
The government has been cracking down on unregulated mining operations, which account for almost 80 percent of the country's 16,000 mines.
The closure of about 1,000 dangerous small mines last year helped to cut in half the average number of miners killed, to about six a day, in the first six months of this year, the government has said.
Major gas explosions in coal mines remain a problem, though the number of accidents and deaths have gradually declined year by year, the chief of the State Administration of Work Safety, Luo Lin, told a national conference in September.
In the first nine months of this year, China's coal mines had 11 major accidents with 303 deaths, with gas explosions the leading cause, according to the central government.
Most accidents are blamed on failures to follow safety rules, including a lack of required ventilation or fire control equipment.
A blast at the Tunlan coal mine in northern China's Shanxi province killed 77 people in February in China's worst industrial accident in a year.