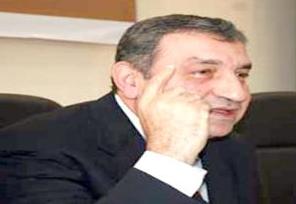 CAIRO (Updated) - Egypt's Prime Minister Essam Sharaf pushed forward with plans for a sweeping cabinet shuffle on Sunday in a bid to appease protesters angry over the pace of reform.
Sharaf has handed his proposed list of ministers to the ruling Supreme Council of the Armed Forces for approval, the official MENA news agency reported.
The prime minister, who heads a caretaker government after a revolt toppled president Hosni Mubarak in February, is expected to unveil a new cabinet by Monday that he hopes will end a week-long sit-in in central Cairo.
He chose one of his two newly appointed deputies, Hazem Beblawi, to serve as finance minister, state television reported. Beblawi, a veteran economist, would take over from Samir Radwan.
Late on Saturday, the premier said he had accepted the resignation of foreign minister Mohammed al-Orabi – criticised for being close to Mubarak – amid pressure to rid the cabinet of old regime figures.
The announcement of Orabi's resignation on state media came hours after Sharaf appointed Beblawi and Ali al-Silmi, a leader of the liberal Wafd party, as his deputies.
The armed forces Supreme Council also issued a statement on its Facebook page late Saturday promising to restrict military trials to cases of rape, assaults on police and armed assaults.
One of the protesters' key demands is an end to military trials of civilians, which have become the norm since Mubarak's ouster.
But the military's statement also warned that, while it would respect peaceful protests, it would not stand aside if protests damaged government or private property.
Sharaf has come under fire from dissidents, who once embraced him, for the slow pace of reforms since the revolt and for his limited powers under military rule.
Orabi said he submitted his resignation "to spare the prime minister any embarrassment during the current negotiations on the ministerial changes," MENA reported.
Orabi had filled the post for less then a month, taking over from Nabil al-Arabi, a popular choice who quit the ministry to head the Arab League.
Despite the announcements, hundreds of protesters who pitched tents in central Cairo's Tahrir Square stayed put, although some protesters suspended a hunger strike after negotiations with military representatives, state media reported.
The sit-in in the iconic square, the epicentre of the 18-day revolt that overthrew Mubarak, began after tens of thousands held a demonstration on July 8 calling for speedier reforms.
They also want an end to what they say are delays in trying former regime officials responsible for killings during the revolt and a coherent transition to civilian rule, which the military has promised after parliamentary and presidential elections.
Official media said up to 15 ministers may be replaced in the cabinet reshuffle, with a focus on those with ties to Mubarak's three-decade rule.
Beblawi, a former undersecretary of the UN's Economic and Social Commission for Western Asia, is to oversee economic policy in the new cabinet, MENA reported. Silmi us to handle "democratic transition" issues.
Sharaf, who was appointed premier after demonstrations persuaded the military to sack Mubarak's cabinet in March, pledged on Friday that "the new ministerial changes are simply the beginning."
"I am working hard to achieve your aspirations," he wrote on his Facebook page.
Sharaf, who has already ordered the sacking of hundreds of senior interior ministry officials, hopes the new cabinet will satisfy the activists while helping the country recover economically.
Egypt has seen a sharp decline in tourism and increased unemployment since the revolt, and investors remain jittery over sporadic and at times deadly unrest in the Arab world's most populous country.
Tensions are also mounting between the military, initially hailed for not siding with Mubarak, and groups that spearheaded the revolt.