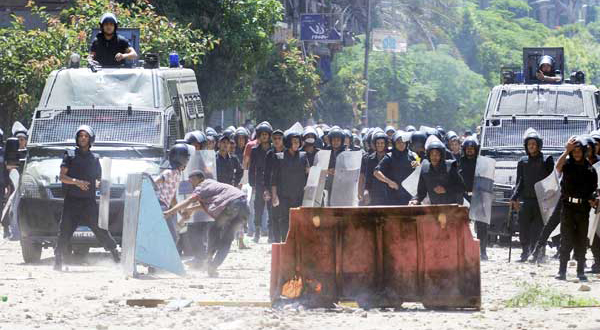 CAIRO: Sporadic clashes and outbursts of violence in Egypt continue shaking investor confidence and making tourists wary, dissipating whatever buoyancy is built during quieter times.
After more than 1,000 were injured during attempts by riot police to forcefully disperse protesters in Tahrir Square on June 28 and June 29, experts say the economy will take another hit in this already murky phase.
On Wednesday, Egypt's benchmark EGX 30 index fell 2 percent, closing at 5,284 points. The market recovered slightly the next day as quiet returned to the downtown streets, rising 1.7 percent to end the week at 5,373 points.
The Egyptian pound dropped near a six-year low at 5.9705 to the dollar on Thursday.
"You can see the investments in the stock market itself after the events," said Mike Millar, head of research at Naeem Holding. "When the pictures of the violence play out on television, after a while, it is obviously going to have a negative impact on foreign investors' perception of the country."
A business forum by Egypt's Ministry of Industry and Foreign Trade and Italy's Ministry of Economic Development scheduled for July 2 was cancelled on June 30.
While this week's violence was the fiercest between protesters and security forces since the early days of the uprising that toppled president Hosni Mubarak, it was not an isolated incident.
In May, more than 350 protesters were injured and 150 arrested when military and riot police forces cracked down on a protest outside the Israeli embassy in Cairo. That same month, clashes between Christians and Muslims in Imbaba left 12 people dead and scores injured.
In early April, soldiers backed by riot police stormed Tahrir to disperse an overnight protest with one reportedly shot dead. Similarly, in March, a sit-in at Tahrir was forcibly disbanded with reported injuries and arrests.
During this volatile stage, Millar pointed out that it would not just be foreign investors who will shy away from the country.
"The more direct impact is on tourism, if people are looking to come in for the high season from Europe, seeing those pictures yesterday, they will think again," he said.
The number of tourists visiting Egypt fell 46 percent in the first quarter of the year as one of the main revenue earners continues drying up, and the economy contracted an estimated 7 percent in the January-March quarter, Reuters reported.
In a special report on Egypt released Friday, Fitch Ratings said the economy could still contract in the second quarter of 2011 and growth for fiscal year 2010/11 will be around 1.5 percent, rising to perhaps 3 percent the following year.
"The cost of the political events of January-February 2011 was much higher than initially estimated. GDP declined by 8.8 percent quarter-on-quarter and 4.2 percent year-on-year in the quarter one of 2011, much the biggest contraction on record," according to Fitch Ratings.
Tourist arrivals are still down a third year-on-year but are four times higher than in February, when they fell 80 percent.
Just days prior, Fitch affirmed Egypt's 'BB' long-term foreign currency Issuer Default Rating (IDR), removed it from Rating Watch Negative and assigned a Negative Outlook.
Towards democracy
Experts say these events will have a crucial impact on foreign investors' view of the country as well as affect the morale of Egyptians, who need to work hard at this stage to reform the country.
By May, reserves had fallen by almost a quarter, said the Fitch report, "as FDI dried up and foreign portfolio investment exited. The reserve decline slowed in May, as outflows stabilized, tourism recovered and oil prices rose further."
Still, "it will be a long time before FDI once again covers the current account deficit, which Fitch forecasts to increase to 3 percent of GDP," the report said.
Magda Kandil, executive director at the Egyptian Center for Economic Studies, said, "I'm afraid pessimism dominates, particularly when you talk to people in the business world who deal with this on a regular basis and see the effects on the economy firsthand."
Kandil pointed out that without economic reform, the idea of democracy, which was one of the core demands of the revolution, might start to become grueling.
"Without economic stability, this talk about democracy is all a luxury, you can't enjoy the benefit of having a democratic environment unless you're economically secure first," said Kandil. "The drive of the people to contribute and press ahead with reforms will be even weaker."
Without an all-inclusive plan that can alleviate the ails of the economy by creating more jobs and setting up a clear budget plan, Kandil believes that pushing for democratic reform could soon become irrelative.
"We haven't been taking a comprehensive approach to dealing with the economic issues mounting since the revolution," she said. "Speeding up the political process and having a new government with legitimacy from the people will be key to stabilizing the economic situation and it would also help towards a more proactive approach to reform."
Currently, the state deficit is 10 percent of GDP, but according to the new budget, the state aims to bring that down to 8.6 percent in the coming fiscal year.
"Egypt's decision to rein in its budget deficit in fiscal year 2011/12 sends a strong signal at a politically sensitive time, when expectations are high, that Egypt sees the need to resume fiscal consolidation as soon as possible. However, the deficit and debt remain outliers among peers and a key rating weakness," according to the Fitch report.
Just last month, Egypt's Minister of Manpower announced that the country's unemployment rate for the first quarter of 2011 reached 11.9 percent, which is two points higher than the previous quarter.
He also added that 45 percent of unemployed youth are under the age of 26 years, while 80 percent of them have college degrees. This already in a country where 42 percent live under the poverty line.
With a dubious future ahead, analysts say the country cannot expect economic recovery, which is needed for establishing democracy, anytime soon.
"We need to wait after the elections to see what will be the agenda the country will follow," said Miglena Spasova, senior risk analyst at Meris, whose parent company is Moody's Credit Rating.
"For 2011, we should forget about foreign investors coming back to the country, it's not going to happen," she added.
According to Kandil, recovery time is running out and Egypt will need to see some economic changes soon.
"We are reaching the end of the tunnel, we need to change the name of the game," she said. "You need the commitment of Egyptians who will have to make this work."
According to the Fitch Ratings report, with parliamentary elections planned for September and presidential elections by the end of the year, "the outcomes are very uncertain, but will be crucial for the pace of economic recovery."
"The policy stance of the new government on fiscal consolidation and structural reform will be the key to Egypt's future credit profile."