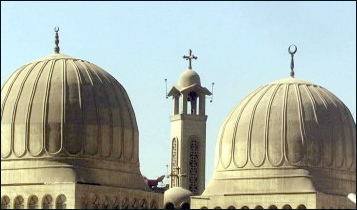 Days after the cabinet's draft law on places of worship was issued, Christians are saying it is far from satisfactory and would reproduce the issues that have long caused sectarian tension.
"Under the former regime of President Hosni Mubarak the building of a church was a security issue, where the [now] dissolved State Security apparatus was the body responsible for giving church building permission," said Sameh Fawzy, a political expert who specializes in citizenship issues. "The new draft law is very ambiguous and may not differ from the former regime's tactics in dealing with the Coptic issue."
A unified law that regulates the building of places of worship has long been a major demand of Copts and human rights advocates. The demand has been acknowledged after several incidents of sectarian violence over church building.
Last month, for example, clashes erupted between Muslims and Christians in the Cairo district of Ain Shams after Muslim neighbors prevented the reopening of a church there.
According to the new bill, governors can grant permits to build, modify or renovate places of worship, as well as permission for demolition. But for some, governors taking on State Security's role in issuing permits doesn't necessarily mean security won't interfere.
"According to the law, approving the building of a church is a mere administrative issue. But I doubt that the authorities will agree to build a church if they receive recommendations from the [newly-established] National Security Agency that building it would cause sectarian violence," explained Fawzy.
"It's obvious that the law will give the National Security Agency a role in terms of authorizing it to survey public opinion in a specific area concerning the building of a church. This means that the building of worship places is not an administrative issue," he added.
Fawzy believes the involvement of security will continue, especially as the new bill requires places of worship to be large, even in small communities. It stipulates that they should not be less than 1000 square meters in size.
"In some villages you have a small Coptic community, for example. To build a church 1000 meters in size means you'll be simply inflaming the Muslims in the village," argued Ishak Ibrahim, a researcher at the Egyptian Initiative for Human Rights.
But should Muslims' reactions be taken into account when building a church? "What if you meet all the conditions for building a church but the Muslim neighbors are against it?" asked Fawzy. This question has long caused tension whenever Muslims rejected the opening of a church in a particular neighborhood.
The draft law sets up what observers consider strict conditions for building places of worship, such as specifying that the distance between any two must be at least 1000 meters.
It also stipulates that permission requests will determine how many people a venue will serve, leaving the decision to the discretion of the governor.
Furthermore, Ibrahim objected to the complications that the draft continues to pose to church building and restoration. "The draft law deals with repairing a church - a wall or even a bathroom - the same way it deals with building a whole new church. You shouldn't have to go through the whole process [of getting permission] again if you just want to fix a bathroom."
"The law simply restricts places of worship instead of organizing them," he concluded.
This month, Abo Bakr al-Gendy, head of the governmental Central Agency for Public Mobilization and Statistics, told daily newspaper Rose al-Youssef that Egypt's mosques number 108,395 while there are only 2869 churches.
"Christians used to get oral approval from the dissolved State Security apparatus to use a certain place as a church. The draft law doesn't tackle such churches, which are somehow illegal," said Ibrahim.
The three main Egyptian churches - Coptic, Anglican and Catholic - rejected the draft law in a statement on Wednesday.
Throughout Egypt's modern history, the building of non-Muslim places of worship has faced various restrictions. In 1934, the Ministry of Interior set ten conditions for church building. Critics say these managed to limit the number of churches across the country.
Egypt, with about 10 percent of its population Christians, has the largest community of Middle Eastern Christians. They have systematically raised concerns about state discrimination, especially with regards their right to access places of worship.
Before the toppling of Mubarak, the National Council for Human Rights proposed a draft law for worship places but the bill wasn't disseminated publicly. Activists said then that State Security rejected the bill.
The draft bill applies to mosques as well, and many Muslim scholars and imams have reacted positively, despite some reservations.
"The law has negative aspects, such as the 1000 meters distance between any two places of worship. I think that this provision will be revised. But in general this law would have positive consequences for Muslims," said Islamic scholar and academic Abdel Moati Bayoumi.
"Small mosques in residential buildings will be demolished and instead you will have big mosques which can can act as learning and charity centers in neighborhoods. Also it means you don't give space for extremist thinking to spread through small mosques," he added.
In the last two decades Egypt has tried to bring all its mosques under state supervision. Experts say this policy largely failed, due to a law allowing people to allocate their building's ground floor as a mosques for tax exemption purposes.