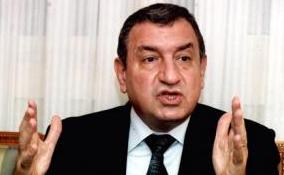 CAIRO – Egypt's premier has said that delaying a parliamentary election scheduled for September would give political parties more time to prepare, state media said Sunday, amid fears an early poll would benefit Islamists.
"Postponing the election would give the chance for a larger number of new political parties to develop," the state-owned Al-Ahram quoted Sharaf as saying.
However, "whatever the time of the election, we will exert all efforts to make it a success," he said.
Sharaf was answering questions at an event hosted by tycoon and politician Naguib Sawiris.
His comments come amid a mounting campaign by liberal and secular groups to delay the election until after a new constitution has been drafted.
The "Constitution First" campaign has sparked intense debate, with critics arguing that delaying the poll would keep the ruling military in place for longer.
In March, 77 per cent of Egyptians voted in favour of holding elections first and having the new parliament draft a fresh consitution.
But others have argued that early elections would give the highly organised Muslim Brotherhood an unfair advantage and expressed concern that the Islamist group would have too much influence over the constitution.
Last week, more than 20 human rights groups said drafting the new charter should be the top priority.
"A new regime must take its place, and its institutions and the relationships between them must be based on a new constitution. This constitution must be drafted first, rather than building the institutions of the new order in accordance with the constitutional rules of the old regime," the groups said in a statement.
Arab League chief and presidential hopeful Amr Mussa has also thrown his weight behind calls to delay the vote.
"I am not for a postponement in the democratic process, and I believe it should start before the end of the year, but I think September is too early to hold a parliamentary election," he said.
"It's better to to start either with the election of a people's founding committee to put in place a new constitution or to hold a presidential election," he said at a government-organised "national consensus" conference.
The military, which has ruled the country since a revolt overthrew president Hosni Mubarak in February, has said the parliamentary poll will be held on schedule in September, followed by a new constitution and then a presidential vote.
The September election is expected to boost Islamists, particularly the Muslim Brotherhood, which has formed a party to contest roughly half of parliament's 508 elected seats.
Secular groups that spearheaded the revolt against Mubarak want the election postponed until they can better organise themselves into parties.