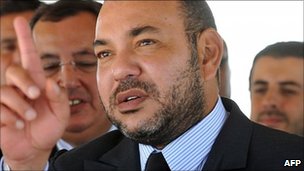 Demonstrations are expected later in Moroccan cities after reformists said constitutional changes proposed by King Mohammed VI do not go far enough.
Many critics want constitutional changes drawn up by a democratically elected committee instead.
They also say the proposed referendum on the constitution comes too soon and leaves little time for a real debate.
The king said on Friday the reforms would limit his power and usher Morocco towards a constitutional monarchy.
The proposed measures include giving the prime minister and parliament more executive authority and recognising the minority Berber language.
But King Mohammed would keep key powers and remain head of the army.
The king's proposals will be put to a referendum on 1 July, but many activists said Morocco's 400-year-old monarchy has a long history of enacting superficial reforms.
Members of the February 20 reformist movement plan protests on Sunday calling for greater changes to the country's political system.
Like many countries across the Middle East and North Africa, Morocco has seen a growing call for major reforms to its political system in the past year.
The country has also been facing severe economic challenges with high unemployment and rising levels of poverty.
King Mohammed, 47, acceded to the throne in 1999 following the death of his father, Hassan II, and now heads the Arab world's longest-serving dynasty.