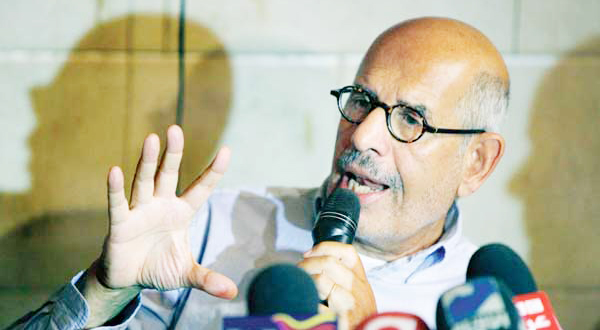 CAIRO: Presidential hopeful Mohamed ElBaradei said he will appear on State TV's Channel Two on Thursday with Islamic preacher Amr Khaled after his appearance on Wednesday was abruptly cancelled.
"I will appear tomorrow with Amr Khaled. Thanks to the youth who delivered a strong message to the people-funded national TV that there was a revolution and that everyone is entitled to freedom of expression," ElBaradie said on his Twitter account.
The former IAEA chief said on his Twitter account Tuesday that the interview, planned to be aired Thursday, was cancelled, describing the decision as a continuation of the "policy of censure and vilification."
Khaled's official website first announced the appearance of ElBaradei on Khaled's show "Bokra Ahla" in the show's first on-air episode, promising "a heated discussion … about a road map of Egypt's civilization."
Shortly after ElBaradei condemned the decision, Khaled wrote on his Twitter account that canceling the episode was due to a decision taken by Egyptian TV not to host presidential hopefuls to guarantee "equal opportunity" — a post later removed from his page.
The short-lived decision to cancel the show was slammed by many who urged Khaled to quit State TV and called for a protest in front of Maspero building to condemn the continuous state media bias against ElBaradei since he first came to Egypt early in 2010.
Nehal Kamal, head of state television, denied that ElBaradei was prevented from appearing on Egyptian television.
"We knew that Khaled is hosting ElBaradei, so I asked him if he will host the rest of presidential candidates but he said that he was not planning to do so," Kamal said. "It is now up to Khaled to decide whether he will host the rest of presidential candidates or not."
Kamal said descrbied ElBaradei as a great, respected international figure, but said State TV has to be neutral in what it presents, in order to provide equal chances.
"We have no red lines anymore but this is an issue of media ethics," she said. –Additional reporting by Tamim Elyan