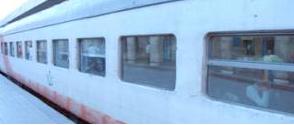 CAIRO - Railway services on the Upper Egypt line was suspended early in the day as two trains collided with a solid body in Qoussiya and Senobo area, in Assuit Governorate, the official Middle East News Agency (MENA) reported on Monday.
"Train no 997 coming form Luxor to Cairo and train no 988 heading to Aswan from Cairo knocked against a solid body, causing nine trains to reach their destinations about 45 minutes late than scheduled," the spokesman of the Railway Authority Mohamed Hegazi told the MENA.
The Luxor-Cairo locomotive bumped into the body which later turned out to be a palm tree trunk, causing a serious damage to the front and back protection net. The fuel tank was reported to be broken as well.
The second train which also collided with the same body was separated into two parts. According to eyewitnesses, the locomotive and one carriage were disconnected from the rest of the train. In addition, the fuel tank and electric cables of three carriages were reported to be damaged.
Hegazi added that technicians managed to operate the trains after they had stopped two hours and a half.
Initial inspection indicated that the trunk was deliberately placed on the rails.However further investigations are to be carried out.