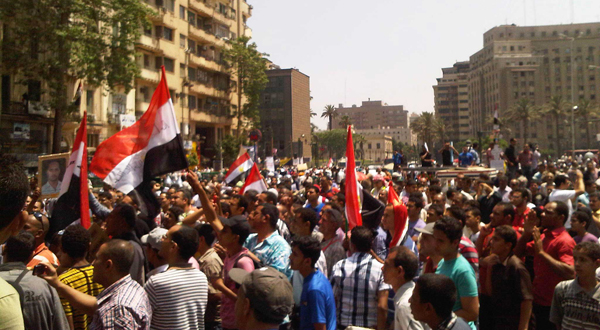 CAIRO: In what was named by some Facebook groups as the "Friday of Work," Tahrir Square witnessed a diminutive presence compared to previous weeks, marked by disjointed demands.
The square, which last week saw tens of thousands on what was dubbed the "Second Friday of Anger," was relatively empty as traffic flowed throughout the day with hundreds of scattered protesters without a coherent set of demands.
Though activists and protesters reject the idea that Friday demonstrations and sector protests are disruptive to the flow of production and thus the economy — an argument used by some officials and analysts — some Facebook users had called for June 3 to be the "Friday of Work," urging Egyptians to cease protesting.
"People should concentrate on rebuilding Egypt and call for their demands during non-working hours," one Facebook page advocated.
Still, hundreds were in Tahrir, and most agreed that only a small number of demands of the January 25 Revolution — which ousted Hosni Mubarak — have been met.
The situation grew tense when police had to fire shots in the air to disperse a crowd of protesters attacking an unidentified television reporter. She was seen being carried away by police officers, who put her in a cab and escorted her from the scene.
Gigi Mahmoud, a newspaper seller, claimed that the attack started because the reporter accused the youth of harassing women in Tahrir.
When calm was restored, chants called for unity between the army and the people while others demanded the death penalty for Mubarak and members of the old regime.
Sayed Al-Salamony, a sales representative at a telecom company, said no measures have yet been taken to achieve freedom and social justice. "Military trials and arrests are still taking place, this is not freedom," Al-Salamony told Daily News Egypt.
"There are still Egyptians earning LE 600 per month while the salaries of others exceed LE 30,000 per month," Al Salamony added.
Mahmoud Yehia, an owner of a medical supplies company and a member of Egypt's Youth Movement for Awareness, demanded a speedy trial for Mubarak and members of the former regime as well as more to be done to honor the revolution martyrs.
"It's ironic that people want this to be 'Friday of Work' and want us to leave Tahrir Square while we can't find work," Hassan Mohamed, a truck driver said.
Sayed Abdel Fattah, a secretary, said next Friday should be dubbed "Friday of Hunger" as he believes the LE 700 minimum wage announced earlier this week is still too little to meet the needs of any Egyptian family.
"What can LE 700 do? LE 1200 is the minimum acceptable level," he told DNE. "We now have dignity and freedom, what we need is social justice."