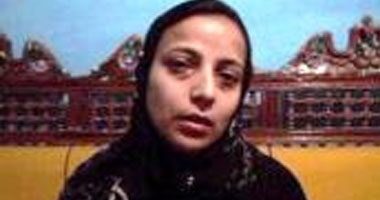 (AINA) -- The unprovoked attack by Muslim Salafis on Copts in Embaba on May 7, which killed 14, injured 232 and destroyed two churches, was sparked by a Muslim man, Yassin Thabet, allegedly searching for his wife, who he claims was held captive and tortured by a church in Embaba, Giza (AINA 5-8-2011). The woman was later identified as Ms Abeer Talaat, a Christian from Assiut in Upper Egypt, who converted to Islam in September 2010. Although still waiting for the divorce from her Christian husband to come through, she was also unofficially married to Yassin Thabet, a Muslim driver she knew from her village, and lived with him in Benha since her conversion to Islam, according the official Al-Ahram newspaper.
In the last few days a woman claiming to be Abeer Talaat gave several conflicting audio interviews to the media, never in person, except for the first one made with the radical Islamic al-Jamaa Islamia in Egypt.
In Abeer's first interview she claimed that after her conversion to Islam, her family handed her over to the Church in Assuit, where she was transferred from church to church until she was brought to St. Mark's Cathedral in Abasiyya, Cairo. "They pressured me to abandon Islam and I pretended to agree because I was afraid they would harm me," Abeer said. She went on to say she was placed in a special home which was like a prison with iron windows, near St. Mina Church. "Only a nun was to open the door just to provide me with food. They wanted to force me to change my papers in the civil registry to reflect reverting back to Christianity.
She said she called Yassin Thabet to save her.
In all other subsequent audio interviews on TV, she made changes to her original story, confirming she was not tortured in any church, and that she was at St. Mina's church and left when the fighting took place. In her last interview with Al-Jazeera the interviewer challenged her with questions, especially inquiring whether she stayed at the church by her own free will or not. She refused to answer this question. The full transcript of the interview is below.
"With every interview she wanted to prove, through lies and allegations, that the church abducts Christian converts to Islam, locks them in churches and monasteries and tortures them until they agree to revert back to Christianity," said Coptic activist Mark Ebeid, "which is what the Salafis have claimed over the last year in their protests for Camelia Shehata, the wife of the Coptic priest (AINA 9-18-2010), as an excuse to search these churches."
Father Freij Fahmi, priest of St Mina Church denied Abeer's allegations, adding that "the church does not detain anyone and our doors are always open. Besides if she came out of the church as she claims, why did she not identify herself to those who attacked the church and who were looking for her, so that they would have calmed down and stayed away from the church and all those Christians would not have been killed."
Ali Abdel Rahman, the governor of Giza, said after investigation "There is no woman held captive in the Saint Mina Church in Embaba." Mohamed Ali, Imam of al-Toba mosque in Embaba, told elYoum7 on Sunday "the story is a lie." Ali said he spoke Yassin Thabet before he went to church and he seemed to him "hesitant and illogical." Yesterday the fact-finding committee of the National Council for Human Rights gave their report on the Embaba violence and among its findings it said that they could not verify Abeer Talaat's claims.
In an article titled "Never mind about Camelia, take Abeer", published today Almasry Alyoum, renowned writer Khaled Montasar suggested that after the Islamists lost the case of Camelia Shehata, the priest's wife who they claimed had converted to Christianity and was being held against her will by the church, they manufactured another "victim" in the person of Abeer Talaat. Camelia came out of her self-imposed seclusion to confirm that she is a Christian and she never converted to Islam.
Yesterday forty six Islamist lawyers filed a complaint with the Attorney against Pope Shenouda III, demanding the Pope open churches and monasteries for inspection to verify of the existence of weapons, and illegal places for the detention of citizens.
This evening it was reported that Ms Abeer Talaat is to be detained for a fortnight, and may be charged, pending investigations, with incitement to sedition, claiming to be unmarried and instigating the events which caused killing of civilians in the clashes that took place between Muslims and Christians.
The transcript of the Al Jazeera interview with Abeer Talaat.
Interviewer: Mrs Abeer, do you hear me,
Abeer: Yes I hear you
Interviewer: What happened exactly are you a Muslim woman or Christian
Abeer: I declared my conversion to Islam
Interviewer: Meaning you were a Christian woman and chose the religion of Islam
Abeer: Yes
Interviewer: Where did you live? Where you abducted?
Abeer: It is not abduction. Some people told daloh where I was, and they took me
Interviewer: Where was this place, Mrs Abeer
Abeer: It was in Warwara
Interviewer: Where?
Abeer: in Warwara
Interviewer: In which province in Egypt
Abeer: In Benha district
Interviewer: In Benha district. Who told hom. Did some Christians told of your whereabouts, for example
Abeer: No it was a Muslim person. We stayed at his place when we went to do the Declaration (of Islam). His financial situation was not good, so he did that to take money
Interviewer: Who can confirm to the people that you are Abeer, the lady in question in this matter
Abeer: What do you mean, my voice. It is illogical that you get someone else to record with except me, and it is illogical that anyone else would agree to speak except me.that anyone else would accept to speak except me.
Interviewer: (laughing) I personally did not contact you but I was told that you are Abeer Talaat Fakhry, the lady who was the center of these events. Anyhow what happened after that after someone told (Dal) where you are?
Abeer: Normal. I went to the church. I was in church from 1/3 until the accident that happened
Interviewer: How did you go to church?
Abeer: My family took me
Preseneter: Your family took you. Who in your family, your father, for example
Abeer: What?
Interviewer: Who in your family exactly, your father for example who detained you in church or took you to church
Abeer: No, no, my family and that's it
Interviewer: Your family took you to church since the 3rd month, the last 3rd month?
Abeer: Yes
Interviewer: Since the last 3rd month and you are detained in church?
Abeer: Yes, but not in one place. I went to Assuit and went from one place to another, I arrived in Cairo on 1/5, I went St. Mina church. There is a monastery affiliated to it where they lodged me there.
Interviewer: When you lived at church, What happened thereexactly?
Abeer: Nothing at all. It is a normal house. It a spacy and big house, 8 floors and I could go up and down, no problem, but I could not go out of the door, it had no window or balcony overlooking the street.
Interviewer: But where you allowed to have a mobile phone?
Abeer: No no, normally I don't use this thing, no
Interviewer: How did you call the outside world? How did they know you were inside the church?
Abeer: Aah normal, maybe someone sees me when I was entering the church or walking in the street to arrive at the church
Interviewer: Do you go out to the street, or don't you go out to the street?
Abeer: No I do not go out. But I came from Assiut and entered the church. all that time commuting from Assiut to the church and no one saw or recognized me at all?
Interviewer: Where you guarded,did anyone abduct you? or was it completely with your own free will?
Abeer: No, no one was abducting me.I was put in a situation and I must (pause)
Interviewer: Must what?
Abeer: normal I must listen to them
Interviewer: There is a point I do not understand, where you present inside the church, with your own will or against your will?
Abeer: Never mind, never mind answering that question
Interviewer: (amazed) Never mind answering that question? This question is the reason behind the sedition. If it is with your own free will, then no one has the right to go and demand that you leave the church.Do you see that this question is not important to answer, so what is important to answer in your opinion? converted to Islam
Abeer: I mean ehh you answer it yourself. I am someone who converted to Islam and finished, so how could it be that she goes to church with her free will or against it
Interviewer: Then not with your free will. Where are you now? Are you living in freedom or are you also detained?
Abeer: No of course. In the beginning I was with the Christians I was afraid from the Muslims, now I am with the Muslims I am afraid of the Christians. I do not know what is going on outside.
Interviewer: You are now with the Muslims?
Abeer: Yes exactly
Interviewer: How did you leave church?
Abeer: When they knew about the accident in front of the church they expelled me from the place where I was staying. They opened the door and told me go, we are innocent of your blood, we have nothing to do with you.
Interviewer: Why did you not go to prosecution?
Abeer: Whom do I know at prosecution. Originally I know nothing in Cairo. All I know is that I left, I left the area where the problems were
Interviewer: Are you married, Mrs Abeer? (long pause)
Interviewer: Are you married to a Muslim? Long pause
Interviewer: Do you hear me Mrs Abeer?
Abeer: yes
Interviewer: Or are you not married
Abeer: Not yet
Interviewer: Not yet married?
Abeer: Yes not yet married
Interviewer: Do you know that someone called and said that my wife is detained inside the church, or not?
Abeer: Yes because we agree, God Willing, that when I am finished with my Christian husband, we will get married.
Interviewer: You are married to a Christian but once you convert to Islam, this marrriage is invalid. this is a known fact. But you are not married to a Muslim until now?
Abeer: no Interviewer: Do you have no desire to present yourself to prosecution and tell them this story?
Abeer: I don't know what verdict will I get from prosecution. I am innocent of all what happened. It was not in my hand he who died or was in hospital
Interviewer: So why should prosecution accuse you? Nothing to do with you.
Interviewer: Mrs Abeer, do you hear me or not? Sound of a child
Abeer: Yes. Is it not enough? Due to me feeling tired
Interviewer: Meaning you do not want to continue?
Abeer: Yes
Interviewer:Just tell us one thing? How many days did you stay at St. Mina church?
Abeer: From 1/5 until the incidents
Interviewer: From 1/5 until now. When did you inform that you are present in St. Mina Church?
Abeer: I did not inform, I did not inform
Interviewer How did the people know you are at St. Mina Church?
Abeer: I don't know
Interviewer: You do not know?
She hang off the phone
The new interviewer: We heard this communication which was made by Al Jeziral-Mubasher in Cairo with the lady who says she is Abeer, because of whom all these sedindary accidents took place in Embaba, Cairo which led to a number of people killed and injured. Maybe this conversation would point to certain new facts and new question marks in these incidents.
Interviewer: The line was cut off by the lady who says she is Mrs. Abeer Talaat Fakhry.