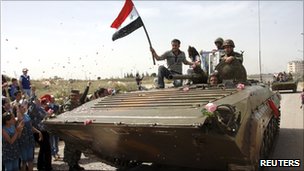 Troops and tanks are reported to have swept into the Syrian city of Baniyas, a centre of anti-government protests.
They entered in three places and were heading towards the Sunni districts of the coastal city, human rights activists told news agencies.
The BBC's Jim Muir in neighbouring Lebanon said he had been unable to confirm the reports as communications to the city appeared to have been cut.
The US has warned Damascus to end its brutal crackdown on protesters.
The White House said on Friday it would take "additional steps" if President Bashar al-Assad did not take steps to end the bloodshed.
More than 500 people are thought to have been killed in the uprising since mid-March.
At least 21 people were reportedly killed in Homs, Hama and other cities on Friday, in what protesters had vowed would be a "day of defiance".
No reports can be verified independently, as foreign journalists are not allowed into Syria.
'Preparing to attack'
Human rights activists told news agencies that Syrian troops and tanks stormed Baniyas in the early hours of Saturday.
They said the armed units were advancing on the Sunni Muslim areas of the city from three directions - steering clear of neighbourhoods of the minority Alawite sect, to which the president and his family belong.
"Residents are reporting the sound of heavy gunfire and seeing Syrian navy boats off the Baniyas coast. Sunni and mixed neighbourhoods are totally besieged now," one rights campaigner, who did not want to be identified, told Reuters news agency.
The AFP news agency reported that protesters had formed human chains to try to stop the military operation.
Hundreds of families were said to be fleeing Baniyas on Friday, with one activist telling the AFP: "It looks like they are preparing to attack the town".
Many feared the city - which has witnessed some of the most persistent demonstrations - would come under siege like Deraa in the south where the uprising erupted seven weeks ago.
The Damascus Center for Human Rights Studies (DCHRS) accused the government of carrying out "10 days of massacres" as it attempted to take back Deraa.