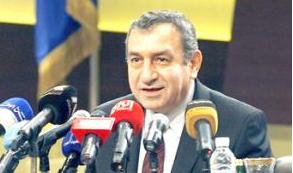 CAIRO (Update 1)-- Prime Minister Essam Sharaf Tuesday pledged to respond to "all demands", of a restive province in Upper Egypt whose people violently protested for almost two weeks at the appointing of a Coptic police officer as their governor.
During his visit to Qena, Sharaf went to a mosque and a cathederal, promising the local residents that all their demands will be met.
Last month, thousands of protesters demonstrated in the upper Egypt governorate, demanding the resignation of the newly appointed governor Emad Mikhail.
Mikhail's appointment infuriated the locals over his history as a former police official. The protesters accused Mikhail, who worked as an aide to the Giza security chief of giving orders to kill protesters during the January 25 uprising.
Sharaf responded to protesters by temporarily suspending the governor and mandating Mikhail's deputy for three months.