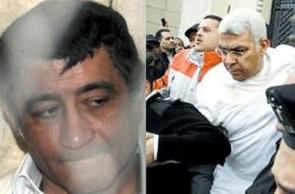 CAIRO - An Egyptian court has decided that it is unable to try a former minister and businessman for embezzlement of public funds, the official MENA state news agency said Saturday.
The trial of former minister of trade and industry Rashid Mohamed Rashid, who is outside Egypt, and steel magnate Ahmed Ezz, currently detained, had been set for Saturday at the criminal court of Cairo.
But the court announced it could not judge them "given the family ties between one of the members of the court and one of the lawyers of Ahmed Ezz," MENA reported.
The case was returned to an appeals court, which needs to set a new trial date in a different jurisdiction.
Several ministers of former president Hosni Mubarak, who resigned last month amid a popular revolt, as well as some businessmen close to the regime were arrested and banned from leaving Egypt after having their funds frozen.
The first member of Mubarak's regime to be put on trial was the much reviled former minister of interior Habib el-Adli, whose security forces were given wide powers of arrest under the emergency law.
Adli is being tried on charges of embezzlement, to which he pleads not guilty, and is also charged with having ordered the firing against demonstrators during the uprising that overthrew Mubarak's regime.