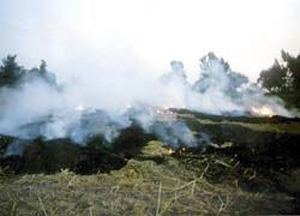 gypt's Ministry of Environment celebrated yesterday the International Day of Climate Action in the Upper Egyptian governorate of Aswan. The Ministry organized a conference titled "Together towards Fighting the Phenomenon of Climate Changes" with the participation of senior leaders at the Ministry. The conference was held to raise bells of alarm against the dangerous emissions and educate people about the importance of cutting the carbon emissions in the atmosphere.

Meanwhile, the crisis of the black cloud has escalated after it clearly covered the governorates of Delta and Lower Egypt. Inspection teams yesterday monitored burning of rice husks on wide areas in addition to burning operations by brick factories.

The inspection teams as well uncovered 11 silos illegally operating in violation of the decision by the governor of Qaliubiya that all silos should stop operation from 1st September to 15 November.

Burnings of rice husks were in wide scale in the governorates of Sharqia and Daqahliya, particularly in the villages of Belbees, Zaqaziq and Mansura cities. Polluting cement and plastic plants were monitored in Helwan, Mostorod, Abu Zabal and Shubra el-Kheima areas in addition to brick factories in Ayyat. Emissions were in large quantities causing air pollution and forming thick black cloud.

Despite calls by the Ministry of Environment for reducing pollution resulting from the burning of agricultural waste and rice husks, reports on environmental violations have remarkably increased in Qaliubiya following observing open burning of garbage in el-Qanater el-Khairiya area. Also, Qaha and Qaliub cities were the scene of open burning of rice husks.