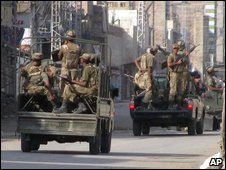 Pakistani troops have captured the key Taliban town of Kotkai in South Waziristan, security officials say.
Troops took the town after days of bombardments, officials said. Three soldiers and four Taliban were reported killed in the fighting overnight.
Kotkai, home to top Taliban leader Hakimullah Mehsud, has seen fierce fighting since Pakistan launched its South Waziristan offensive last week.
Journalists are being denied access to the area and cannot verify the reports.
Up to 100,000 civilians have fled the conflict zone, the army says.
Pakistan launched its offensive after a wave of militant attacks, believed to have been orchestrated from South Waziristan, killed more than 150 people.
'Breakthrough'
Pakistani troops - backed by artillery, helicopters and fighter jets - were reported to have briefly taken control of Kotkai in the course of fighting earlier this week.
But on Tuesday morning the Taliban hit back, destroying army checkpoints and killing seven soldiers, local officials said.
However Pakistan's army said subsequently said it had secured the tactically important heights around Kotkai.
On Saturday, AFP quoted an official as saying: "Security forces took control of Kotkai overnight and a clearance operation is in progress.
"It is a major breakthrough because it was the stronghold of Taliban and hometown of Hakimullah Mehsud and Qari Hussain," he added, referring to a reputed trainer of suicide bombers.
The BBC's Mark Dummett, in Islamabad, says the fighting is now expected to move into more remote and mountainous areas, as the army continues its drive deeper into this militant stronghold.
Meanwhile, at least 13 people were reported to have been killed by a US drone missile strike targeting a Taliban commander's house in the tribal region of Bajaur.
Officials said the strike had hit the house of Maulvi Faqir in Damadola village.