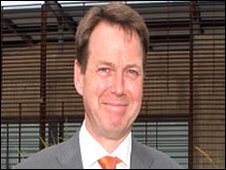 A suspected suicide bomber has carried out an attack near the convoy of the British ambassador to Yemen in the capital, Sanaa, reports say.
Ambassador Tim Torlot is safe but at least one person - reported to be the attacker - is dead, security sources were quoted as saying.
The UK Foreign Office said it was closing the embassy to the public.
The UK and US temporarily closed their embassies in January amid security threats from an al-Qaeda off-shoot.
The closures came in the wake of the Christmas Day bomb attempt on a US jet flying to Detroit, which was claimed by a Yemeni-based group calling itself al-Qaeda in the Arabian Peninsula.
There are mounting fears that Yemen is becoming a leading al-Qaeda haven.
Security threats
Mr Torlot was reported to have been on his way back to the embassy from an early morning meeting when the attack happened.
Witnesses say that the suspected bomber was slow in targeting the convoy and he died in the blast.
There are unconfirmed reports that a second person - possibly a bystander - was also killed.
"We can confirm that there was an incident in Sanaa this morning," a foreign office spokesman in London said.
"There was a small explosion beside the British ambassador's car. He was unhurt. No other embassy staff or British nationals were injured."
The spokesman said the embassy would remain closed "for the time being" and urged British nationals in Yemen "to keep a low profile and remain vigilant".
Mr Torlot has been the British ambassador to Yemen since July 2007, and was formerly number two at the embassy in Baghdad, so is well accustomed to the threats posed to British interests in the region, the BBC's Christian Fraser in Cairo reports.
Security has been stepped up at Western embassies in Yemen in recent months as the US, Britain and other European countries have signalled their intention to play a greater role in combating the extremist groups that threaten Yemen's stability, our correspondent adds.
It follows the revelation that the Nigerian man accused of trying to blow up the Detroit flight on Christmas Day, Umar Farouk Abdulmutallab, had been trained by al-Qaeda in the Arabian Peninsula.
This is the second attempted attack on a diplomatic convoy in Sanaa. In spring 2009, a pedestrian suicide bomber targeted a South Korean diplomatic vehicle on the main road from the city centre to the airport. The attacker was the only person who died.
Also last year, militants used car bombs and rocket-propelled grenades in a co-ordinated assault on the US embassy.
The British embassy was closed twice in 2005 due to threats to "Western interests".