GENTHOD, Switzerland – Fresh from a landmark meeting that put Iran nuclear talks back on track, Tehran and six world powers are already quibbling over what was agreed on ahead of follow-up talks later this month.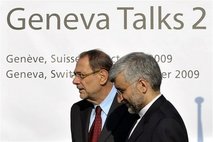 Iran accepted a demand Thursday at the talks in a villa outside Geneva to allow U.N. inspectors into its covertly built enrichment plant, in a move that appeared to defuse tensions that had been building for weeks.
Western officials at the session said the Islamic republic had also agreed to allow Russia to take some of its enriched uranium and enrich it to higher levels to fuel its research reactor in Tehran, a potentially significant move that would show greater flexibility by both sides.
President Barack Obama noted the deal in comments on the meeting. But Mehdi Saffare, Iran's ambassador to Britain and a member of the Iranian delegation at the talks, told The Associated Press the issue had "not been discussed yet." Asked if Iran had accepted, he replied: "No, no!"
Iran could use the agreement to argue that the six nations trying to engage it on its nuclear program acknowledge its right to enrich uranium, if only at the very low levels used for nuclear fuel of a reactor network it plans to build. The U.S., Britain, China, France, Germany and Russia remain formally committed to seeking a full freeze of Tehran's enrichment activities.
This is a key international goal because enrichment can produce both fuel for nuclear reactor and weapons-grade uranium for warheads.
But such agreement would also serve nations fearing that Iran is interested in ultimately further enriching its stockpile into weapons-grade uranium for warheads. Further enriching the fuel for the research reactor would use up most of Iran's 3,300-pound (1,500-kilogram) domestic stockpile of low-enriched uranium, which Tehran has amassed in sufficient amounts to build a bomb.
Iran's senior nuclear negotiator, Saeed Jalili, told reporters Friday night after returning to Tehran that the discussions did address an Iranian request for the IAEA to help it purchase fuel for the Tehran medical research reactor from agency member countries able to supply it.
"We have told them before, we have expressed our readiness to buy nuclear fuel from those countries who are ready to sell nuclear fuel to us," Jalili said. "We said that we would sit down with them and we would discuss that to come to an agreement. We also talked about this again in our discussions in Geneva."
Speaking in Washington, Obama called the talks "a constructive beginning" and said Iran must match its words with action.
The tone of Thursday's meeting was considerably more positive than just a week ago, when the U.S. and its allies were threatening Iran with tough new sanctions if it refused to freeze its nuclear activities, which they suspect are aimed at creating an atomic weapon.
Perhaps the most significant development of the day was a 45-minute one-on-one meeting between U.S. Under Secretary of State William Burns and Jalili. It was the first direct U.S. negotiations with Iran since Washington severed relations in 1980.
The encounter appeared to add to the positive atmosphere that led to agreement by all the parties — Iran, the U.S., Britain, France, Russia, China and Germany — for a follow-up meeting this month.
It also appeared to be concrete proof of Obama's commitment to engage Iran directly on nuclear and other issues — a sharp break from policy under the Bush administration.
U.S. Deputy State Department spokesman Robert Wood said Burns used the meeting with Jalili "to reiterate the international community's concerns about Iran's nuclear program."
Javier Solana, the European Union's foreign policy chief, told reporters Iran agreed to "cooperate fully" with the International Atomic Energy Agency and to open its newly disclosed nuclear facility to inspectors, probably within "a couple of weeks."
Jalili said in the Tehran news conference that the Iranian delegation also explained during the talks that Iran was driven to build the more secure uranium enrichment facility because of threats of military action. Some Israeli officials have spoken about possible military action to stop Iran's nuclear program.
In a statement, the IAEA said agency chief Mohamed ElBaradei had been invited to Iran to discuss nuclear issues. A senior U.S. official said ElBaradei would travel to Tehran this weekend. He spoke on condition of anonymity because his information was confidential.