Israeli soldier Gilad Shalit has been seen in the first video to be released since his capture in June 2006 by Palestinian militant group Hamas.
In the film, sent by Hamas in exchange for the release of 20 Palestinian women prisoners, Sgt Shalit looks healthy and says he is being treated "fine".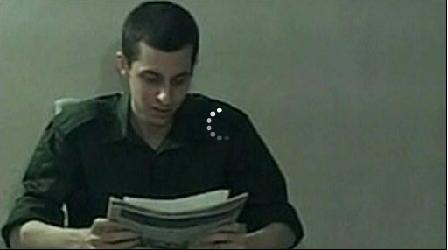 He said Israel should "not waste" the chance to make a deal with his captors.
Nineteen of the Palestinian prisoners were freed earlier, amid emotional scenes in the West Bank and Gaza.
Ismail Haniyeh, the leader of Hamas in Gaza, claimed the deal was a "triumph" for the armed Palestinian resistance, and called it a "day of great hope", Israeli newspaper Haaretz reported.
Israeli Prime Minister Benjamin Netanyahu said the road to Sgt Shalit's release would be "long and difficult", but "the knowledge that he is safe and well should encourage us all".
'Waiting and hoping'
In the video, Sgt Shalit, who was seized near Israel's border with Gaza, appeared clean-shaven and with trimmed hair.

The conscripted soldier, now aged 23, smiled briefly at times as he spoke coherently in the video, which lasted for more than two minutes.
He was dressed in uniform, seated in a chair against a featureless wall and was holding a newspaper dated 14 September 2009.
"I am reading the paper to find information about myself and hoping to read about my release soon," Sgt Shalit said.
"I have been waiting and hoping for a long time to return home."
And he suggested that the decision to release the video opened up a chance to strike an agreement to free him.
"I hope this government, headed by [Mr] Netanyahu, does not waste this opportunity to reach a deal," Sgt Shalit said.
'Encouraging'
The soldier also spoke about a day spent with his father and sister, when a photograph was taken of him on a tank and they drove to a restaurant in a Druze Arab village.


"I am physically well," he said, adding that his captors, whom he described as the al-Qassam Mujahideen Brigades, "are treating me fine".
The Palestinian prisoners were not freed on Friday until officials had seen the video.
Sgt Shalit's father Noam said the swap was "a first step."
"Now it's a new countdown" to the hoped-for release, he told AFP news agency, while cautioning that he was "not particularly" optimistic that his son would be freed soon.
Nearly three years of Egyptian-brokered talks have failed to produce a deal for his release.
German mediators joined the talks, between Hamas and Israel, in July.
An audiotape and three letters have been released since his capture in 2006, the most recent dated in 2008, but no images of Sgt Shalit have been seen until now.
'Incomplete joy'
Hamas has never allowed the International Committee of the Red Cross access to verify Mr Shalit's wellbeing.
The militant group, which controls Gaza, is demanding the release of at least 1,000 Palestinian prisoners in exchange for the soldier's safe return home.
On Friday, 18 of the prisoners being freed were handed over in the West Bank on Friday and another was released in Gaza.
A 20th prisoner will be released on Sunday, replacing a woman who was on the original list for the prisoner exchange but was freed independently by the prison service this week.
The female Palestinian prisoners are described as low-profile detainees, most of whom were coming to the end of their sentences.
Most were jailed for carrying knives or guns and for attempted murder.
There were emotional scenes as those freed in the West Bank were greeted by relatives before an audience with Palestinian President Mahmoud Abbas.
"My feeling right now is one of enormous joy," said Jihad Abu Turki, as she arrived in the city of Ramallah.
"But the joy remains incomplete without my sisters who are still in prison."