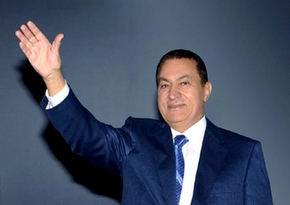 will undergo gallbladder surgery in Germany on Saturday and has temporarily handed over power to his prime minister during his absence, local TV reported.
As the constitution requires, Mubarak has authorized Prime Minister Ahmad Nazif to exercise the executive power during the period, state television said in the early hours of Saturday.
The report said that the 81-year-old Mubarak was accompanied by his wife and members of his family during his stay in Germany.
According to a report by state television on Thursday, the 81-year-old Egyptian president, who has been in power since 1981, would undergo medical tests in Heidelberg, Germany on Friday.
Mubarak, Merkel discuss regional issues
President Hosni Mubarak held a series of meetings Thursday with German Chancellor Angela Merkel, in which the two heads of state discussed a number of regional and international issues of common interest, including efforts to restart the Middle East "peace process."
Mubarak reportedly briefed Merkel on ongoing efforts by Egypt to reconcile Palestinian factions Hamas and Fatah. The two leaders also discussed efforts aimed at reinforcing the Egypt-Germany bilateral relationship in a number of different fields, including commercial exchanges and German investment in Egypt.
Mubarak and Merkel also talked about means of encouraging German businessmen to carry out joint projects in Egypt in the fields of industrial production and public services so as to allow German companies to benefit from Egypt's geographic location and its many cooperation agreements with Arab and African states.